VR, AR & Mixed Reality Technologies
Augmented reality (AR) is a live, direct or indirect view of a physical, real-world environment whose elements are augmented (or supplemented) by computer-generated sensory input such as sound, video, graphics or GPS data.
Call Us - US: +1 415 230 0398

UK: +44 7466035003

Email Us:
VR, AR & Mixed Reality Technologies
There's no denying that humans have come ever close to defy the boundaries between the virtual and real world. The technology that frequently embraced the people through sci-fi movies has certainly engraved its foot on the modern ground. This has been possible due to the advancements in Virtual Reality (VR), Augmented Reality (AR) and Mixed Reality (MR) technologies.
What are VR, AR and MR?
Virtual Reality is a computer-simulated environment where humans can interact with the seemingly three-dimensional virtual objects through the use of digital devices such as screen, helmet and gloves.
On the contrary, Augmented Reality deals with the alteration and enhancement of virtual objects in the real world through computer-generated input.

Mixed Reality further complicates the definition of the above two by combining the virtual and digital environment to produce entirely distinctive visualizations where humans and digital objects can co-exist.
Are VR, AR and MR related?
While the debate on the 'what is VR' and 'what is MR' is still afresh, there's a need to dig deeper concerning the association about these technologies and how they can pave the way for enhanced functionalities.
Virtual and Augmented Reality are interacting phenomenon when viewed from the perspective of Mixed Reality. In simple words, Mixed Reality is an extension of both the concepts, where Virtual Reality develops a virtual environment and Augmented Reality builds virtual objects in a real environment. The figure below will make this integration easier to understand.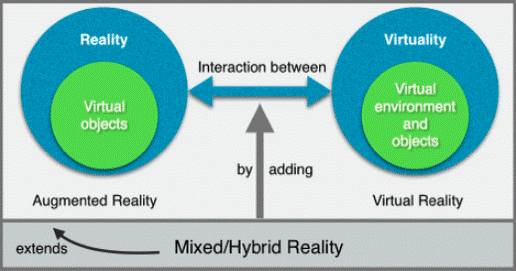 The relation of VR, AR and MR with your business
Augmented Reality, in particular, has been significant in defining the new business realms, especially the one that concerns GPS application. People have had accidents following the GPS too accurately; however, it won't happen again as GPS application has been entirely enveloped by Augmented Reality that allows for a virtual overlay to live-cameras in real-time (Hinchliffe, Tutu, Zoland, Rabbitte, Sachdev, & Guia, 2017).
Follow the points to know more about what Reality technologies have to offer for your business.
Competitive advantage
Future-oriented enterprises are always on the prowl to leverage the technologies, which will boom the businesses in the forthcoming days. Your business can be one of those elites of tomorrow if you develop your products and services using Virtual, Mixed and Augmented Reality.
Swift prototyping
Prototyping can be a daunting task when the applications are complex. To make things worse, it is essentiality. Nevertheless, Virtual and Augmented Reality can simplify and support the process, saving time as well as cost.
Besides, Virtual Reality is highly beneficial for engineers and designers. Mark Miles, managing director of VR agency RenderMedia, says, "VR makes it possible for engineers and manufacturers to experience their creations before they're built. We have developed applications that allow people in different countries to appear next to one another on an oil rig and interact. It creates that heightened sense of reality" (Waugh, 2017).
Collaborate with us to boost your business
For all that it encompasses, there's always a correct and a not-so-correct method for utilising the Reality technologies. This is precisely why MedRec Technologies ensures appropriate software development pertaining to your business' domain.
Experts at MedRec Technologies are committed to rendering gimmick-free and valuable applications which can intrigue the customers. Our strategies, needless to say, are designed according to your defined objectives, possibilities and limitations. That said, we emphasise the development of your brand by enriching the software with technologies that are fun.
Most importantly, the group of experienced experts at your service have witnessed the transition of Virtual and Augmented Reality technologies through the years, something that empowers them to align your brand with the technological revolution.
References
Hinchliffe, T., Tutu, Zoland, M., Rabbitte, P., Sachdev, N., & Guia, S. B. (2017, June 29). Augmented Reality Comes to GPS Navigation, So No More Driving into Lakes! Retrieved from https://sociable.co/mobile/augmented-reality-gps/
Waugh, R. (2017, August 17). When will we see virtual reality in the workplace? Retrieved from https://www.telegraph.co.uk/connect/small-business/tech/pc-world/benefits-of-virtual-reality/