Our blogs
Call Us - US: +1 415 230 0398

UK: +44 7466035003

Email Us:
How to make money online through an App in 2020?
Before we get into explaining to you the ways of making money online, you must understand that the art of making money is no rocket science. Amid the ever-scaling prominence of iOS and Android, people tend to believe that this is the easiest way to generate revenue. However, this is blatantly false.
Making money from an app is no different than earning profits from ground businesses. It is the integration of hard work, smart work, and better decisions. The only possible exception is that an app can grow exponentially for a long term, something that can surpass all your expectations. But, for that to happen, you need to have access to proper resources and should have an idea that sells.
Let's now answer these questions— "How to make money online through apps?","What are your best money-making options in 2020?"
How to make money online through apps?
Mobile app development intrigues organizations, startups, and even individuals, and rightly so. After all, apps are supposedly the best intervention for catching the attention of the masses.
According to Statista, the number of mobile app users has drastically increased in the past three years. The figure below justifies the preceding assertion.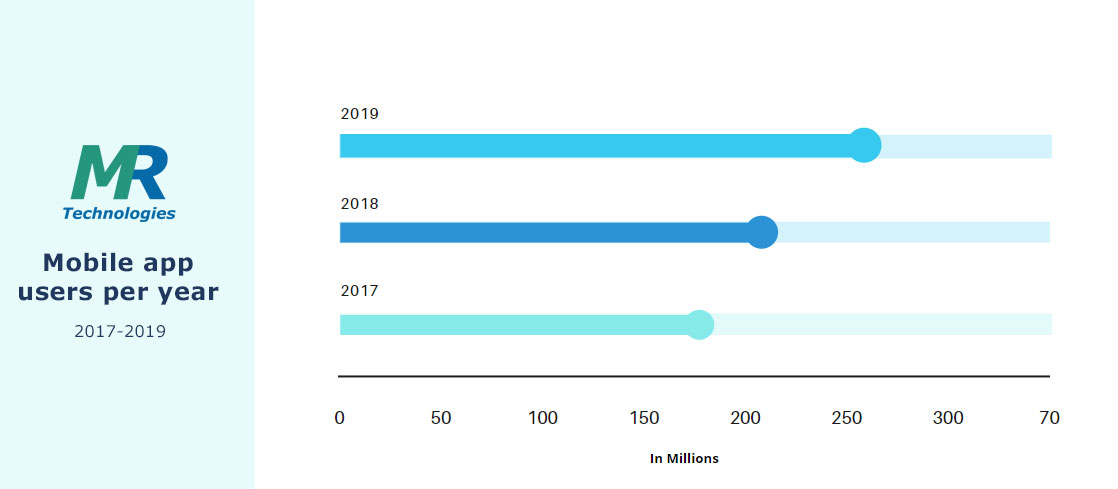 Keeping this in view, companies develop apps that can relate to users.
1. In-app purchases
If an entertainment or gaming app is on your mind, then in-app purchases can do wonders. However, this strategy is not just limited to the aforementioned fields. It has wide-scale implications. PUBG mobile, Fortnite, and Pokémon Go are profiteers of extensive in-app purchasing. These gaming applications have products that can be bought to scale the level or modify the avatar.
2. In-app purchase option
Should you give an in-app purchase option? Well, you definitely should because your app's motto is convenience and ease of access. Now, if you don't want to invest much in the in-app purchasing options, you can choose from prominent online payment gateways such as Google Pay. Surveys have shown that in-app purchase is ideal for boosting the revenue.
3. In-app advertisements
Now, this is something you might be aware of. You can use your app to allow advertisements from networks including, Google Ads, iAds, etc. However, ensure that you don't saturate your app pages with too many ads. Otherwise, your audience will feel irritated and might dispose of the app.
4. Introduce a subscription model
Subscriptions are ever-green; however, your service needs to be ideal for offering the same. For instance, Grammarly provides a premium subscription option both on a monthly and yearly basis. Upon the acquisition of a premium account, a user can view advanced grammatical issues in his or her content and accordingly make the corrections. The same goes for several apps with great money earning capability.
What are your best money-making options in 2020?
2020 will be a progressive year for mobile app development, particularly for making money online. This is because we might witness 5G in full flow, translation/transcription services becoming better, and mobiles getting more advanced.
Also, there will be a surge in social communication and online shopping, which is a direct result of digitization. Thus, you need to make better decisions for developing your mobile apps in 2020.
1. Choose the right field if you are not-so-sure about how to proceed with money-making.
Shopping apps dominate the charts when it comes to the number of users using applications. This is followed by communication, social, utilities, and entertainment. Thus, you must segregate your ideas and invest your time in those businesses that can garner huge traffic. Obviously, there is a lot of competition out there, and this is where your creativity comes into the picture.
2. Transcription, translation, writing, editing, and proofreading services can provide your app an edge.
If your app is dealing or is about to deal in the fields as mentioned above, then you might be gearing for high returns. All these fields are booming and present a chance for the developers to make an app that can serve this purpose. No, we aren't talking about automation, but using mobile apps to offer these services.
3. Choose the platform that has a good previous record of high returns.
That's right! Blatantly selecting iOS or Android will not serve the purpose you need. If you go by statistics, you'll see iOS winning, but that's because iOS's users are considerably less than android. But then again, iOS developers make more money, something that you might want to consider.
Mobile app development is, undoubtedly, booming, but a lot depends upon how to grasp the opportunity.
Hire the Top Software Development Professionals