Microsoft SharePoint
SharePoint represents a web-based application that integrates with Microsoft technology. It is a kind of back-end system that unites all the PCs and mobile devices within the organization.
Call Us - US: +1 415 230 0398

UK: +44 7466035003

Email Us:
Microsoft SharePoint
MedRec is an expert SharePoint development company providing premium services in the UK, Europe, India and the US and delivers a customer-centric big range of robust, reliable and scalable SharePoint services for elite organizations. We help various businesses like Retail, Healthcare, E-Commerce, etc. to nurture and grow using our well-equipped SharePoint solutions.
SharePoint, as the name indicates is a tool used to share information, data, and resources among employees and business partners in a timely and interactive manner. Sharing business-critical information over the web is very cumbersome and has many vulnerabilities like data manipulation and misuse. SharePoint offers core functions of data storage with an added advantage over the traditional data storage method of folder system. This tool encourages data collaboration in a business organization with data storage at a central location and offering transparent communication between the employees and staff. Using SharePoint, the data analysis, feasibility study, and requirement analysis can be carried out easily without any hassles as it offers interactive user-friendly interface.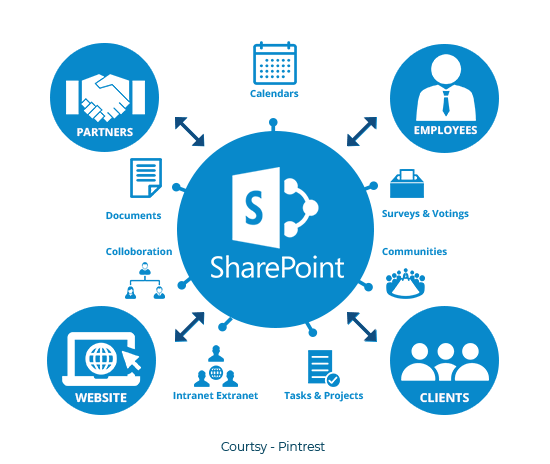 Our SharePoint Services :
SharePoint Deployment :
Our SharePoint development team have expertise in SharePoint deployment for a vast range of industries. We offer development and deployment services of SharePoint intranet portal for small to big scale business to cater the diverse needs for constant business growth. We have hands-on experience in the successful development of healthcare and banking software with SharePoint.
SharePoint CMS Development :
MedRec is one step solution to all your SharePoint needs. We build high-end CMS for web portals with all customized features such as publish, edit and alter data. This is very important to a successful organization and helps to get rid of the file and folder system. The SharePoint custom CMS is very flexible and offers a quick browsing of assets with a thumbnail view of records.
SharePoint Transformation/Migration Services :
We have 10+ years of experience in SharePoint migration and transformation services. We help businesses to cope up with the latest technology by providing extravagant migration service with extra support. We work with all versions of SharePoint including MOSS, WSS and offer integration with third-party systems.
SharePoint Support and Maintenance Services :
With our powerful SharePoint services, we also ensure the smooth working of SharePoint applications and software. Our all-the-time-support team is available round the clock to serve our precious clients to all support and maintenance related issues. We also offer training services after the successful deployment of SharePoint application to make it easier for clients to use the tool efficiently.
With all the mentioned services we have many more services based on SharePoint Deployment including payment gateways integration with SharePoint, SharePoint and J2EE Development, Enterprise SharePoint Development, SharePoint installation and configuration, BeSpoke Development, SharePoint and ERP integration, SharePoint Consulting services, Quality Assurance, and Testing Services, etc.
MedRec is a premier SharePoint Deployment service provider with proven and unmatched quality of service. We make sure to offer the best services to customers located in different parts of the world. We firmly believe in following strict guidelines and deliver the product within the time limit. Our workforce follows standard development methodologies and works hard to explore the potential of SharePoint to achieve high-end deliverables that in turn get high revenue for the business.