Mobile Solution
The World of IT is changing every minute and so is Mobile technology. Mobility has become the first and foremost need of today's business and thus it has changed the way businesses interact
Call Us - US: +1 415 230 0398

UK: +44 7466035003

Email Us:
Mobile Solutions
According to recent reports, approximately 50%of India's population is engaged in a smartphone spending major hours of a day in it. What glues individuals to the screen is the content available widely in the web world.
Additionally, the new trends and advancements offer enhanced user experience and experiences like delivering everything at their doorstep. Mobile applications offer direct customer reach out and Organizations utilize this opportunity in every way possible to connect with customers and also increase sales.
Mobile applications are the latest and most significant cornerstone for connecting with the audience. The paradigm shift in the online world has made the market competitive and challenging.
Thus, offering exceptional end-to-end mobile development MedRec Technologies is your one-stop solution for all and any mobile technology requirements. Understanding mobility as a key essential for audiences today, we also utilize the latest and the best mobile technology offering remarkable applications with custom development. We understand every business has its own specific needs, and thus, we cater to our customers promising individuality and uniqueness offering custom application development.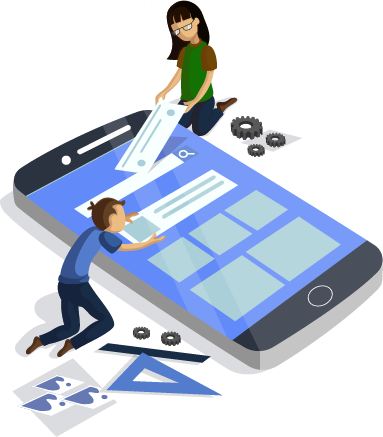 As the world wide web is evolving every minute, companies are strategizing on increasing sales and revenue by offering their products through applications. It is evolving, convenient and specific. Our IT team are experts in Android development, iOS development and native development of application offering wide solutions and also maintenance.
Thus, as a one-stop mobile solution, MedRec Technologies offers a holistic and complete application development approach. We cater to our customer requirements converting ideas into reality. Organizations can be medium centric, we offer all or even a single platform for application development. Further, also understanding the opportunities and market segment, we offer to brainstorm and develop applications as they are deemed across particular platforms.
Hence, offering the most viable and sustainable mobile solution, our professionals offer –
IOS APP DEVELOPMENT
As your market segment might be an Apple fan, developing iOS-based applications is a must. As elite and sophisticated, iOS can be challenging and complex. However, our experts have hands-on experience in developing, deploying, testing and launching an iOS application. With proven market experience, we offer a wide range of iOS-based development services
API Integration
iBeacon & BLE Device Integration
Swift
Keychain & Touch ID Security
Analytics
Location Services
Payment Gateways
Audio/Video Streaming
Apple TV Compatibility
Apple Watch Compatibility
ANDROID APP DEVELOPMENT
Based on our years of market experience in mobile solutions, we guarantee android users cannot be ignored. As an economical and wide platform, no Organization can eliminate an Android App Development if they wish to procure maximum business goals and highest target reach. Further, strengthening the business productivity and approach, our team offers out-of-the-box and remarkable android application development that guarantees application to stand out the crowd. Hence, we offer a wide range of Android-based app development services including-
Material Design
Security
API Integration
iBeacon & BLE Device Integration
Location-based services
Analytics
Payment gateways
NFC
Audio/Video Streaming
Android Wear Compatibility
Android TV Compatibility
Additionally, MedRec Technologies are market leaders in mobile native developments. Native applications are preferable as they are specific to platforms and devices, and along with, provide optimized performance utilizing the latest and advanced technology. Therefore, as device-centric, applications with native development are any day feasible and edgy.