Healthcare Software Development
Healthcare IT and Medical Softwares help In Improvement of patient's health via diagnosis, treatment, and prevention of disease, illness, injury, and other physical and mental impairments.
Call Us - US: +1 415 230 0398

UK: +44 7466035003

Email Us:
Healthcare Software Development & MedTech IT Consulting
MedRec Technologies is the true pioneer in delivering cost-effective patient healthcare solutions by innovating intelligent hospital management tools and software. So, when you embrace the innovative and novel digital healthcare solutions, you are more than a true leader to realize the capabilities of software for the healthcare industry and empower your hospital management, while improving patient outcomes.
What Prompts Patient Healthcare Software Development?
MedRec Technologies cares for what drives the digital transformation in every industry. By offering intelligent digital solutions for every healthcare need, this leading healthcare software development company is poised to help the hospital management system or healthcare providers deliver cost-efficient disease prevention treatment and hospital care that can improve lives. Moreover, it aims at delivering value-based patient care with unique technologies.
Due to the higher capabilities of cost-efficient and faster pathology and diagnosis services, healthcare software has received an outstanding response from the leading healthcare providers. Their ability to manage patient data and monitor patient healthcare is a catalyst to accelerate its market growth. As per reports, healthcare software is projected to grow at a CAGR of 7.4% from 2018-2023 and reach around $29.9 billion by 2023.
Also, groundbreaking technologies including the Internet of Things, blockchain, artificial intelligence including cloud computing have found its way to healthcare services. Alongside this, we have also experienced a massive penetration of advanced medical technologies such as health wearables, sensors, and genomics to bring an increased success in medicine. All of these technologies are agile and resilient enough to deliver precise and timely treatment facilities. MedRec Technologies with its range of integrated softwares for healthcare businesses is all geared up for letting healthcare providers take better strategies to create more value for patient services.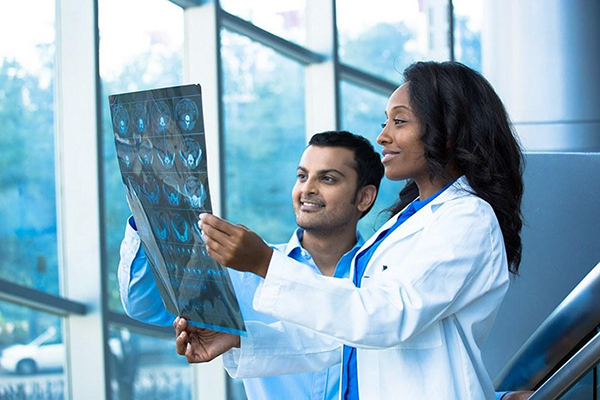 Healthcare IT Services To Reshape Patient Care
From patient pathology to emergency services, MedRec Technologies gets you covered from every end. The range of Hospital Management Softwares it develops enhances patient care. Integrated custom software is capable of delivering better-informed choices to patients about their well-being and health. AI integrated clinical innovations used in the laboratories for disease diagnosis allows your patients to have access to health information readily, thus prompting faster test results and enabling better treatment.
Additionally, IoT enabled tools and wearable technologies are efficient in delivering telemedicine solutions. With this tool in place at every healthcare unit, it is easier to monitor patient conditions, increase reaction time and predict medical conditions. Embedded analytics at the same time helps take better treatment solutions for patients.
For advanced diagnostics, virtual and augmented reality take a leading role in hospital management. MedRec Technologies offers better competencies in AR/VR reality for custom healthcare software development that integrates 3D imaging with these technologies. The immersive technology of AR/VR reality enables healthcare communities to conduct advanced diagnostics of chronic diseases while offering an interactive experience for health specialists.
For over three years, MedRec Technologies is a dedicated Healthcare IT service provider for enhancing patient care through disruptive custom software development. Engage today.