Ruby on Rails
Ruby on Rails is a breakthrough in lowering the barriers of entry to programming. Powerful web applications that formerly might have taken weeks or months to develop can be produced in a matter of days.
Call Us - US: +1 415 230 0398

UK: +44 7466035003

Email Us:
Ruby on Rails
MedRec is a leading software development company based in London, UK with 15+ years of experience in development of powerful, interactive, and user-friendly web and mobile-based applications. Our services are prepared to provide class apart client experience with maximum Return of Investment and sustainable business growth. We are expertise of ruby on rails customized services. Our modes operandi is Agile and we work on scrum Framework to deliver high-end RoR projects.
Ruby on Rails is gaining popularity day by day as the latest versions are being launched. Developed in Japan, it is full of rich libraries and very easy to use. We, at MedRec offer a vast range of services based on Ruby on Rails, MVC Framework, Action Script to our global clientele. We use Rails 4.x, Rails 5.x, SASS, Sinatra, Refinery CMS, Concurrent Ruby, MySQL, and Mongo DB for development of RoR services.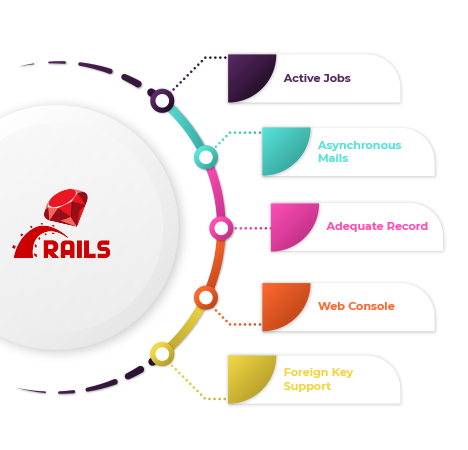 Our RoR Services :
RoR Android and iOS App Development :
MedRec offers customized and dynamic server-side app development services for both Android and iOS. Our products are highly interactive with cross-platform compatibility. We strictly follow the principles of TDD, DIE and DRY to remove duplicity and unnecessary codes and use the latest 6.0.0 version for development.
RoR Web Application Development :
MedRec is a trusted name in providing world-class web services based on ruby on rails. We have a large pool of experienced workforce who offers exceptional ruby on rails services with powerful UI. We have a database of more than 80 happy clients located in different parts of the world. We have worked in various sectors like medical, entertainment, Science and research, health, E-commerce, etc. with proven utmost work performance.
RoR Customized CMS :
With our RoR services comes the customized CMS necessary for all RoR applications. It gives the user a rich experience of the web world. We integrate incredible features which allow clients to maintain, edit and update the application and web portal easily. Our CMS is highly functional with a great user interface.
RoR Transformation and Migration :
We offer transformation and migration of existing business or process to a new platform with RoR. We provide inputs on the latest technology, market trends, designs, competitor study, and full-stack versions and turn the old application to a new stunning product. We use our skilled experience from previous product development and deliver accordingly for various industries.
RoR Testing and QA :
Our proficient testing team works very closely with the development team to ensure security and functionality. The application goes through the hands of the testing team at every phase of development and even a tiny loophole is resolved before the launch of the product and it is made sure that the final product is ready to use, highly scalable, cloud-ready, cost-effective and flawless.
RoR Support and Maintenance :
MedRec also offers post-launch support and maintenance services round the clock. Our support team works 24*7 to troubleshoot all RoR related issues be it small or big. Our support services include bug fixing, value addition, and maintenance of existing RoR applications.