Python
Python is a high-level general purpose programming language that offers multiple paradigms like object-orientation, and structural and functional programming for software development.
Call Us - US: +1 415 230 0398

UK: +44 7466035003

Email Us:
Python
While initiating a business, everyone faces a dilemma of choosing the right programming language for the products. If a similar perplexity envelops your mind, there's, admittedly, no need to worry courtesy of the existence of Python. We at MedRec Technologies believe that despite the varying perceptions people consolidate, Python is a convincing solution to most of the problems.
Know more about Python
Python is a highly-productive, dynamic and incredibly simple (Syntactically) language, which is ideal for development. That said, the language has already proved its mettle in web development and general scripting, which is why it is extensively preferred for accounting, logistics, enterprise, customer relationship management (CRP) and enterprise resource planning (ERP) (Percival, 2019).
What stands out about Python programming is its simplicity and ease of learning, which makes it easier to inherit the complex functionalities. Python Programs assist in defining the concepts relatively easier than its predecessors. This is one of the major reasons why it is so prominently utilised by biggies such as Facebook and Instagram.
According to Builtwith, there are about 164, 215 live Python websites whereas about 875,000 have previously used Python.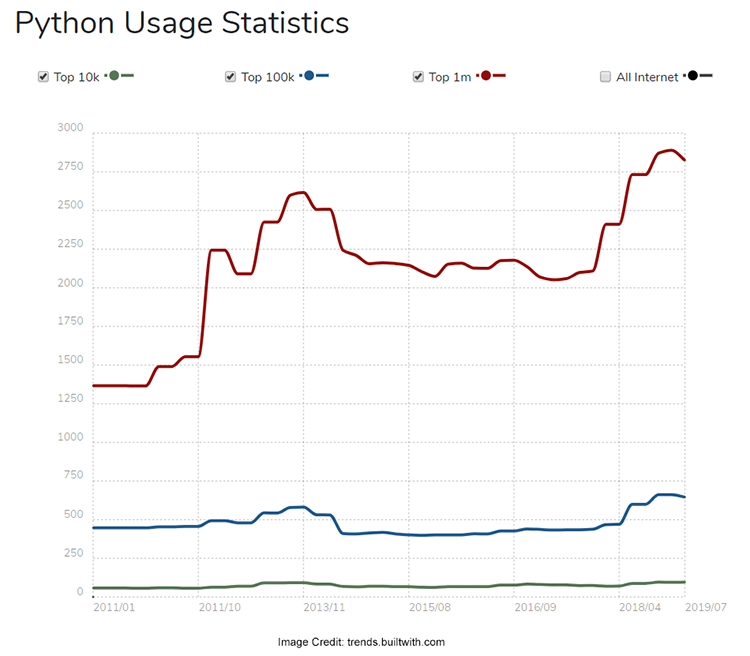 Why is Python good for your business?
It supports swift integration
There's always talk about the speed with which Python is able to develop the software. Earlier the language used to be prey to impotence; however, that image has been wiped out by projects like PyPy and Numba.
It supports Big Data Analytics
Big data often wins the race for being the buzzword of the market. While most of the languages find it hard to support a large amount of live-streaming data, Python always comes to the rescue by sustaining live streaming servers and efficiently communicating with them.
It is ideal for Game Development
Python programs have access to several libraries and modules which have inherited features of the preceding languages. Thus, it becomes easy with Python to develop 3D games with much ease.
It is interactive with third-party modules
There might be situations where your software needs to establish communication with third-party modules. In this situation, it is essential to instil your business with Python programming, which can communicate efficiently with externalities using PyPI package.
It conforms with the budgetary constraints
"Simple and cheap" is the best way to define Python for its accessible and economic functioning extends far beyond comprehension. Having said that, startups and SMEs, which are on a tight budget, can always look to Python for their business.
It supports IoT
No doubt, IoT is the future of technology. However, the more interesting part is Python's prominence concerning popular micro-controllers like Raspberry Pi. The developers are, therefore, capable of connecting with the real-world markets. Besides, most of the institutions and schools have training literature written Python.
What services do we offer?
Now that you are well aware of the Python applications, you must know how to integrate the language with your business. Keeping this in mind, MedRec Technologies offer you a diverse range of services from desktop-based applications to web frameworks.
Besides, we use Python for NLP, ML and deep learning because of its intuitive syntax, excellent control flow and better commutability. In addition to that, our experts ensure that your applications aptly suite your business and render you with a better ROI. Want to know more? Contact Us.
Reference