Analytics Platform
An analytics platform is a unified and proper solution designed to address the demands of users, especially large data-driven companies, on the inadequacy of relational database management systems (RDBMS).
Call Us - US: +1 415 230 0398

UK: +44 7466035003

Email Us:
Big Data Analytics Platform Solutions
Optimizing business decisions, data analytics is key essential today to all small and big Organizations. Organizations receiving huge data inputs, an analytics platform offer convenience and opportunity to streamline data.
Data Analytics allow Organizations to quantify and assess both present and future key business decisions. An analytics platform, thus, is a holistic and competitive solution designed and developed with advanced algorithms and mathematics to find meaningful patterns in huge data sets. As an imperative tool for large data-driven companies, analytics platform is a one-stop solution for Companies to store and manage data.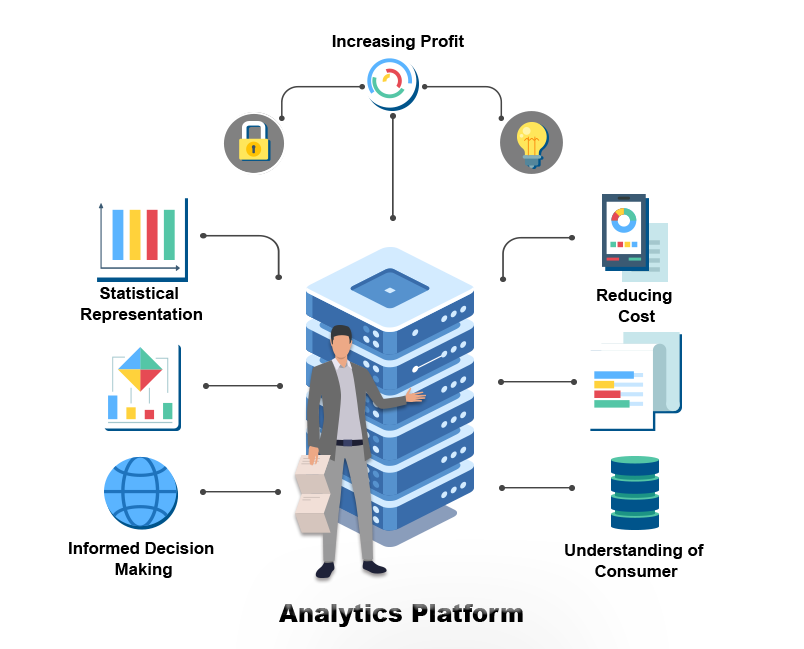 Thus, promising Company growth, profits and accurate solutions that are data-driven, MedRec Technologies offers an Analytics platform that is advantageous and cost-effective. Our Data Analytics platform is designed and developed with the latest predictive and machine learning ability that offers Organizations a competitive advantage and holistic understanding of operations, employee engagement in an Organization or better target audience understanding for better customer satisfaction and engagement.
Further, our analytics platform provides Organizations with customer understanding through digital analytics. A strategic and profitable approach, Digital analytics encompasses data from various websites, mobile applications, and sites comprehending customer behavior. Through digital analytics, Companies can gauge into areas of improvement, analyze and strategize user behavior and performance.
Additionally, augmenting data-driven decisions, analytics platform offers Data visualization- a graphical representation of data based only and only on facts and figures. A substantial and dynamic approach for Organizations, data visualization uses visual elements like charts, maps, and graphs for customer insights. It offers an appropriate and logical data structure determining patterns and trends in data.
As a core component, developing data warehouses are integral and fundamental to Organizations. Building a data warehouse with an advanced system of reporting and data analysis, allows Organizations to integrate data from various sources creating a central repository for data collection and management. Data warehouses enable Organizations with the advanced ability of data analysis. It supports not only structured but also ad-hoc queries from distinct sources.
Thus, supporting Companies with analytical reporting and decision making, analytics platforms is crucial. Utilizing data analytics services for business growth, the Organization can also formulate and integrate data as a service to manage data of and for the clients. A web-delivered service, data services are services offered by cloud vendors to store and manage data under one platform.
Significantly expediting and accelerating profits, Data Analytics offers advantages like-
Informed decision making in an Organization
Decisions backed up by facts
A statistical representation of strategies
Ability to gauge future risk and deploy preventive measures accordingly
A greater understanding of customer behavior
Developing better customer relationship with a deeper understanding of consumers
Offering consumers with what they exactly want and build a loyal clientele
Reducing cost and increasing profit
Flexible and competent approach to any and every business decision
While there are multiple open-source analytics platforms available in the market, we understand a business niche and its needs. Accordingly, we at MedRec Technologies offer the latest and most cutting-edge methodology in Data analytics, guaranteeing realistic and accountable techniques for business success.