Strategic IT Consulting Services
Our experts design and execute comprehensive IT strategies for the digital transformation of your organization that improves the efficiency of IT systems and meet your business objectives.
Call Us - US: +1 415 230 0398

UK: +44 7466035003

Email Us:
Introduction to Strategic IT Consulting
In management, Information technology consulting or in other words, IT Consulting is considered as a field or area of activities that concentrate upon suggesting as well as advising various organizations, about the best way of using information technology for enhancing their operational activities to accomplish the concerned business objectives. There are also several other acknowledgments of IT consulting, which are respectively;
Computer Consultancy
Computing Consultancy
Technology Consulting
Business & Technology Services
IT Advisory
In the aspect of IT Consulting, MedRec Technologies pursues a certain proficiency of technological knowledge and specializes in adjoining business and industry insights into a powerful outcome.
The services provided by the Top IT Consulting Companies are inclusive of the ideas comprising emerging technologies, well-designing principles, strategic as well as an effective approach towards the adoption of productive tools and methodologies, in order to improve the organizational performance.
IT & Software Consulting Process in MedRec
MedRec Technologies determines, produces, designs, evaluates as well as executes certain productive strategies which assist in providing the business, growth, and expansion along with reducing the expenditure. On the other hand, the contribution of MedRec Technologies in the arena of Outsourcing Training and Consulting opens the doorways of new revenue systems along with maximizing the old ones.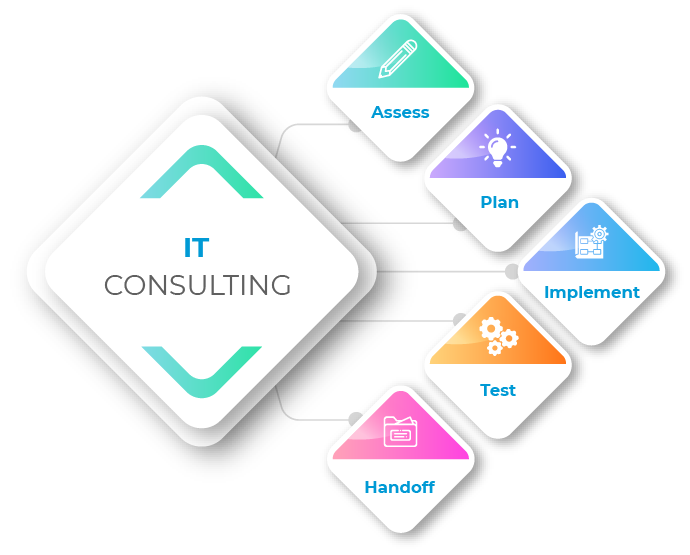 IT Outsourcing Services
IT Outsourcing is considered as the utilization of external service providers for efficiently delivering information technology-driven business processes, application services and infrastructural solutions for the purpose of obtaining an improved business outcome.
Top IT Outsourcing Companies utilize Outsourcing for conducting various functions which can be respectively termed as software development, hardware development, infrastructure growth, maintenance and support providence, etc. On the contrary, an enterprise or entrepreneur outsources its information technology management by the mode of building a contract with the third-party, as it is financially beneficial than creating an IT management team that will be responsible for their respective Outsourcing Consulting Jobs.
Our IT Consulting Solutions
Our IT consulting Solutions are respectively;
Complete IT Services inclusive of planning, procurement, setup, and ongoing IT management.
End to end IT Maintenance, monitoring, supervision, support, and security.
Business Continuity Services.
Disaster Recovery Planning
IT Maintenance along with System Administration.
Internet Connection Sharing secured Cloud Computing Solutions.
Small and Medium Business IT Consulting Services.
Exchange Hosting
On-premise Exchange Server Maintenance
Server Virtualization Services such (Hyper-V Consulting & VMware Consulting)
Remote Office Connectivity
VPN Configuration and Support
Complete IT Consulting for start-ups.
Association with MedRec Technologies
A combination of young and fresh minds along with experienced influencers in the field of technology, designing, and programming, of MedRec Technologies, are continuously thriving for providing the best technologies and services to different industries.
They eliminate workflow pain points, implement new technologies as well as consolidate app portfolios along with rendering various IT Consulting Jobs. Therefore association with MedRec Technologies would be beneficiary and productive for any organization.
Statistics and Conclusion
The total revenue of the IT Consulting industry in 2019 is 484 billion dollars along with a 4.2% of successive annual growth in the last 5 years, therefore the consecutive years will be the booming period for any individual or organization, concerned with the consulting industry.