Healthcare and Lab
Healthcare is the maintenance or improvement of health via the diagnosis, treatment, and prevention of disease, illness, injury, and other physical and mental impairments in human beings.
Call Us - US: +1 415 230 0398

UK: +44 7466035003

Email Us:
Healthcare and Lab
Technology has so far increased the demand for digital consumer engagement. Patient healthcare is exactly what that has embraced the same digital front-door strategy for enhanced patient engagement. MedRec Technologies is all dedicated to bringing that digital revolution to the healthcare sector and enable pharma companies, e-health start-ups and clinics to implement new technologies and improve patient care with better outcomes.
As is with the latest development in Artificial intelligence, this technology has revolutionized the clinical research as well as disease diagnosis. Recently, FDA has also approved the use of medical algorithms driven by AI to ease imaging interpretation for laboratory processes. Besides, FDA is constantly developing new structures to promote rapid innovations of AI for hospital care.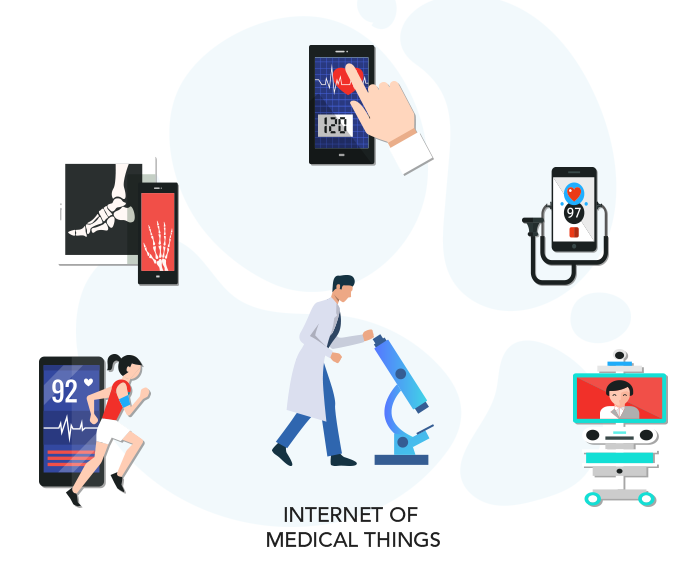 Artificial Intelligence For Varied Degrees Of Pathology
So far, AI has improved the treatment procedures for diabetic retinopathy, identification of wrist fractures in emergency services, detection of breast cancer and eye diseases. As you proceed with the digital transformation, pathology and diagnosis have been taken over by AI wearables. Custom software applications for iOS also have disrupted the hospital care and hospital management. Custom healthcare software development solutions from MedRec Technologies keep attention to overcome the growing challenges in the hospital management services to boost your growth.
Additionally, AI is equally intelligent and efficient in improving the work process in the lab setting for improved patient care management. Since an effective patient engagement is a key to the success of your healthcare productivity, it is important that you pay heed to leverage the latest technology for healthcare. A recent study from Research and Markets claimed AI and ML are estimated to influence the healthcare spending globally up to 76 billion by 2023. Another report suggests that by 2022, AI is potent to influence disease diagnosis in every healthcare system since it enhances the capability of disease diagnostics in real-time.
AI in pathology increases the accuracy rate in image analysis, morphology –based segmentation and rare object identification. As a result, it has made possible to offer value based patient care. Another best approach of AI is to influence the quality of life by allowing discoveries of new medicines in pharma industries.
Cloud Based Technology To Reduce Medical Diagnosis Errors
As per National Academies, it is due to diagnostic errors patient mortality is likely to grow by 10% approximately leading to hospital complications by 17%. Many times, the performance of physicians is not a primary reason for mismanagement in healthcare system and errors in patient pathology. We can blame communication silos among patients and clinicians, inefficient integration of health information systems and traditional healthcare infrastructure to reduce efficiency in patient care. An enhanced cloud-based medical video conferencing or holistic unified communication and collaboration infrastructure is capable of reducing these hospital management challenges. On the other hand, it eases the transit of patient information and makes it easily available to clinics for faster and efficient treatment procedures. MedRec Technologies' cloud-based solutions offer a unique approach to patient and physician collaboration.
In collecting a huge amount of patient data, Internet of Medical Things (IoMT) makes it easier to connect different devices and enable better understanding of patient conditions. As you leverage this advanced technology, you can bring a radical change to your healthcare system and offer faster and more accurate medical diagnosis to improve your healthcare facility.