Maintenance and Support
A tremendous amount of time and resources are invested during the development of a software and hence best ROI (return on investment) can only be achieved by maintaining its standards and quality.
Call Us - US: +1 415 230 0398

UK: +44 7466035003

Email Us:
Software Maintenance and Support Services
Introduction to Maintenance and Support Services
Maintenance refers to the attempt of certain necessary practices to preserve the primordial condition any resource or asset, in other words technically maintenance is regarded as the involvement of timely servicing and verification, replacement and repair of required instruments, machinery, infrastructure, and equipment in an orderly fashion. On the other hand, the support comprises of functioning which is rendered amongst products, programs, machinery, modes, etc. Therefore combining both of them, maintenance and support can be considered as a service that renders to all those preventive, upgrading and explanatory activities which help the user to experience a better way of work.
Software Maintenance and Support
Software Maintenance and support can be best understood from the Illustration of MedRec Technologies, that is one of the leading groups of innovators, designers, technologists, and devotees in the field of emerging digitization. Not only this, but we are also one of the ground-breakers of various technologies catering to several different industries. These technologies facilitated in fulfilling customers' ideas and expectations as well as transforming them into an emerging reality. The services provided to the customers were all inclusive of desired applications, and gaining the customers' faith and confidence was all possible due to extensive Software maintenance and support.
Conception of Software maintenance and Support in MedRec Technologie
We firmly believe that a lot of time, energy, hard work, manpower, and resources are utilized for inventing software from its initial to the final stage for any business. Later on, for a business to grow and prosper, It must obtain the optimum return on investment. Therefore MedRec Technologies is always prepared to provide the best quality IT maintenance and software support.
As the providence of advanced technologies is mostly dependent on software refurbishment and most businesses aim at simplifying the customers' experience, thus MedRec Technologies considers IT maintenance and support as an integral part of the software development lifecycle process.
Henceforth, above all the primary motto of the management and coordination teams of MedRec technologies lies in lending and providing Software and apps maintenance services to different companies and users to ease out their difficulties.
Software Maintenance and Support Statistics
The businesses that are willing to grow and expand their reach in the industry must be well aware of some statistics related to maintenance and support activities depicting their inevitable importance. Those are respectively;
The communications regarding support must be both way and well channelized, as 78% of the public purchase a service or brand depending on that.
The establishment and retainment of trust and value must be high with the customers, as 93% of consumers feel gratified with the technical support having the prior presence of trust and value.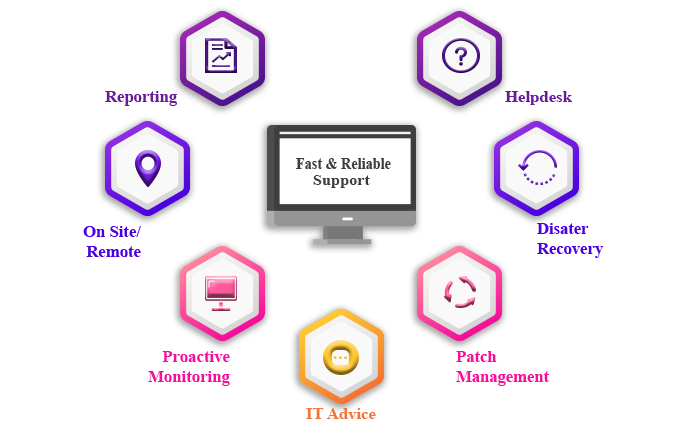 Different types of software maintenance and support activities
Enforcing the latest and advanced technologies for technical enrichment, updating and migration of applications, as well as retainment of the hardware and software in a stable and reliable condition is known as adaptive maintenance.
The productive process of mending any application jerk or stoppage, dysfunction, and action impediment by the means of identifying the errors is known as corrective maintenance.
The process of activating particular updates and releases in a timely fashion to keep the patterns and designs of the system ultra-modern is known as scheduled maintenance.
Recognizing the possible problem-prone areas beforehand and offering the scheduled maintenance with timely backup and recovery, for smooth operations is known as preventive maintenance.
To keep the system well maintained, clear, transparent and efficient, attempting functional modification, enrichment, and betterment is known as perfective maintenance.
The providence of various migration services to reprocess a recycle outdated or corrupted operating systems, databases, platforms, applications are termed as legacy migration services.
MedRec Technologies' offerings in software maintenance and support
There are astonishingly multiple technologies inclusive of augmented reality, virtual reality, mixed reality, artificial intelligence, blockchain technologies, cloud computing, which are offered by MedRec Technologies. Not only this, along with catering to several industries, they are also available with a lot of services like enterprise software development, mobile app development, information technology consulting, automation and robotics and similarly many others. Thus the assurance of IT maintenance and software support is much high.