Our blogs
Call Us - US: +1 415 230 0398

UK: +44 7466035003

Email Us:
No-Code Development
No-code development has been around for over a decade. But it has only begun to gain popularity now. And it's only fitting that it's happening now when humans are seeking convenience more than ever. No-coding offers you such immense practicality that you can quickly get yourself online without any hassles.
What is no-code development?
In the era of digital transformation, no-code development has occupied a large part of the market. So, it's no surprise that it's set to become a $27 billion industry by 2022. That's a nearly 1200% increase since 2017.
Every year, more brands are moving towards creating custom mobile apps because they are responsible for over 50% of their traction. With the ever-increasing demand, designing an app from scratch has not only become expensive but also time-consuming.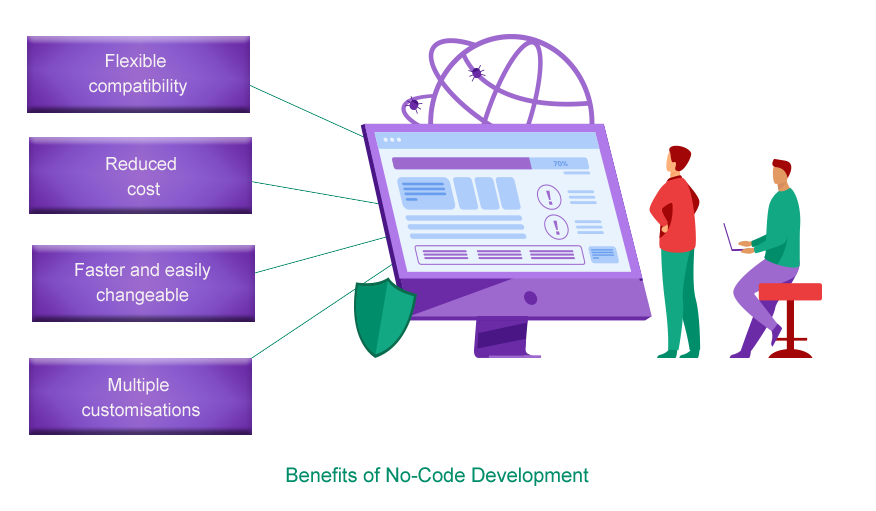 No-coding platforms prove to be reliable companions in the process. They allow you to customise your app using a drag and drop technique, which is as easy as putting items in your shopping cart.
Whatever looks good, stays; what doesn't, you toss it away!
And the best part is, you don't have to wait for anyone to make that happen. You can start building an app in the middle of the night and have a functional one by morning. So, the buzz around no-code development is well-deserved.
Benefits of No-Code Development
There is no doubt that we need no-code app development platforms today. They are a critical element in design and development, so the technology has the potential of becoming one of the best uses of AI in the future. So, it will be unwise to call it a trend and dispose of it so easily. In fact, here are the top reasons why no-coding is here to stay.
Reduced cost : While the average cost of developing a mobile app is relatively low in India, no-coding platforms cut it down even further. So hypothetically, if you had been paying INR 35,000 for a basic app till now, no-coding will reduce it by at least 20% and bring it down to INR 28,000.

No-coding also eliminates the need to pay the developers by the hour. By ditching the traditional method, you sign up for an arrangement where you pay a reasonable price for a custom app. All this, with minimal human interaction.

Faster and easily changeable : Saying no-code web application development platforms have a user-friendly interface is an understatement. These platforms operate on a readymade module that allows you to simply add the features you need and checkout. They are even better than low-code development platforms because you can build an app without any prior coding knowledge. Besides, you are able to double time the process because you have to bother yourself with neither HTML nor CSS.

Multiple customisations : If you are one of those who don't like turning in corrections or revisions, no-coding is for you. It can be challenging to constantly supervise over a developer to avoid errors. And even then, if there is something you don't like, it turns out to be an absolute waste of time.

No-code development platforms allow you to make a thousand changes in a matter of minutes with no extra cost. From floor to unveiling, they help you cut your launch time in half.

Flexible compatibility : Generally, mobile apps aren't cross-platform compatible. The developer is required to write separate codes for the IOS and Android platforms. Owing to its rigidity, you have to create more than one app if you wish to reach out to both target markets.

No-coding platforms are different. They let you design an all-in-one app that not only works perfectly on both Android and IOS but also functions as an Accelerated Mobile Page (AMP) for your website. Again, without any additional cost.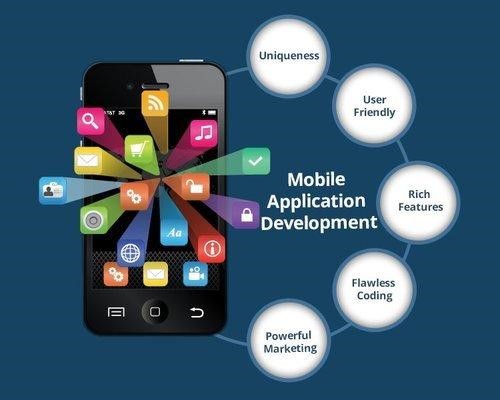 Relief for the overworked techies
IT professionals work round the clock to deliver responsive mobile apps across the world. But the rising demand doesn't help with the workload.
No-coding platforms have come as a ray of sunshine in the tech world, despite the obvious competition between them and the app developers. While they undoubtedly lack the sophistication of a developer, they have helped reduce quite a bit of the latter's headache. Together, they make for a faster and more affordable mobile app development market that's profitable and handy for both the customers and the developers.
Hire the Top Software Development Professionals