Our blogs
Call Us - US: +1 415 230 0398

UK: +44 7466035003

Email Us:
Common Mobile App Development Myths
In the emerging era of technology, mobile applications and mobile app development have become more than just a necessity and a norm for all kinds of businesses to reach their target consumers and achieve success. A mobile application needs to be interactive and practical, satisfying the audience's requirements and using the advantage of the latest technology.
The increasing trends and dependence on mobile apps have raised the utmost importance of mobile app development. Despite the popularity of mobile phones and their application among consumers, they haven't quite exploded in the modern business world. For any business or startup, misconceptions and myths revolving around it can have serious consequences. While the list can certainly go much longer, here are some of the common myths of mobile application development:
Myth #1: Mobile Applications take half a year to Develop and Launch
Numerous businesses and startups require somewhere in the range of 10 to 100 applications to serve various specialty units. On the off chance that it needed a half year to build up an application and dispatch it, these organizations would get inefficient. Alternately, using the correct portable stage permits application improvement to occur effectively within three months. Reusing code and backend administrations allows combination to happen quickly.
Myth #2: Mobile App Development is Cheaper than any other development.
People wrongly equate physical size to development speed and cost. Just because mobile devices are small doesn't mean that mobile applications' development is any more comfortable. They are equally problematic and need equal or somewhat more time-consuming at times. If you want a mobile application to be developed, your development partner agency must pay for the analyst, developers, designers, and app testers. The process itself includes a whole range of other activities, including concept preparation, designing the architecture solution, user interface design and graphics, testing and distributing the application.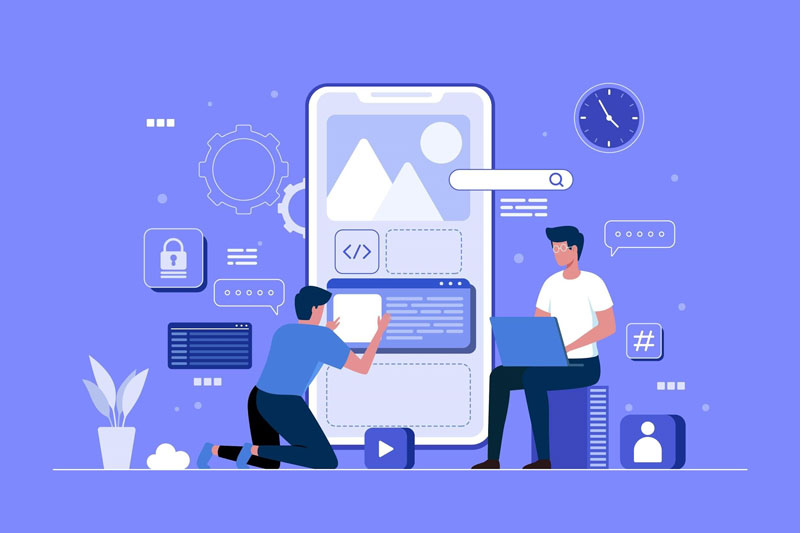 Myth #3: Cross-Platform App Conversion is Formal and Easy
When converting a mobile app from one platform to another (like iOS to Android), every client thinks that it's a simple process to rewrite the application's code. The app development company can do it easily and quickly without any errors. But it is not an automated process; developers should have to write code from the beginning.
Myth #4: Building the first version is easy
While many think assembling an application's primary variant takes the longest to construct, it might require weeks, even months, to fabricate the direct rendition. Everything relies upon the versatility and application prerequisites.
As an engineer, you need to fix the essentials of the application. You would prefer not to leave there with an application that is excessively hurried and does near nothing. Take as much time as is needed; form the primary adaptation without useful mistakes.
Myth #5: Once your customer downloads the app, they'll use it regularly
It doesn't make any difference if your application has 1,000,000 downloads in the event that it doesn't have a practically identical number of dynamic clients. Your application can be considered a hit just if clients are returning to it consistently.
This is what I mean: We have various applications on our telephone. We utilize many of the equivalent applications each and every day, on numerous occasions a day, while others lie dormant in our telephone. Those applications have almost no utilization to us, and this happens to a great many applications consistently. Your application isn't fruitful on the off chance that it isn't transforming downloads into dynamic clients.
Myth #6: The greater the availability of functions, the better the application
The best applications are those that are straightforward and have a characterized reason for which they serve. It doesn't make any difference on the off chance that it is a route framework, schedule, digital book peruses, or a game. Applications that need to slaughter numerous winged animals with one stone frequently don't appropriately murder any. They are moderate, hard to control, and occupy a great deal of room in the memory of your cell phone.
MedRec Technologies, being a trusted mobile app development company, offers a wide range of solutions for customized application development for various platforms. MedRec has a designated team of specialized developers for customized mobile app development that provides a wide range of services such as Android App Development, iOS App Development, Native App Development, Real-Time Application, Web, and E-Commerce application.
At MedRec, the team makes sure to eradicate and clear out any doubts or misconceptions that you, as a client, may have. The mobile development company focuses on the quality of the product, and the team makes sure to develop, test, and deliver the app best in both use and gaze.
How Does Mobile Development Work in MedRec Technology?
The mobile app development team starts with project planning and client interaction and fetches out all the business's needs and requirements. They make a plan and timeline for the application development, and the core team works hard to design the app by keeping it simple yet elegant.
Save yourself from all the rumours spreading out and choose for your business the best technology partner. Contact MedRec Technologies today!
Hire the Top Software Development Professionals