Our blogs
Call Us - US: +1 415 230 0398

UK: +44 7466035003

Email Us:
Complete Transportation And Logistics App Development Solution
Do you know the world is turning towards app development?
The concept of online shopping has been replaced by apps. E-commerce stores are making the shift from physical to digital.
The modern-day e-commerce industry has been revolutionized with mobile commerce or mCommerce.
With a good response from consumers about an app, it won't be wrong if we say that every major tech giant is aiming to have its app store.
Transportation and Logistics App Development Company refers to an app development company that works on creating apps for businesses operating in the transportation field.
This company specializes in developing apps for the cargo, freight, or shipping industry. This kind of app development provides a support system for e-commerce and m-commerce apps/websites.
The main motive of this kind of app development is to develop apps that help people operating in the transportation field to provide better services.
Why Is Transportation and Logistic App Development Important?
The main aim of transportation and logistic app development is to provide better services to clients. Many new startups provide these types of apps for their clients, which helps them in providing more effective results.
This is not only limited to transportation but also the manufacturing industry, the retail industries, and others as well. Transportation companies are trying hard to reach maximum clients to get success.
The reasons why transportation and logistic app development is important for your business is as follows:
Easy to communicate with the employees.
Many returns on investment.
Reduced paperwork.
Better processes are followed that results in more productivity.
There is quick communication between partners, clients, and suppliers which ultimately proves beneficial for everyone involved in this industry.
Employees are motivated enough to give their best shot.
Due to these reasons, companies are saving a lot of time and money which they would have otherwise spent on paperwork and other miscellaneous tasks
With this app, people can track their shipments easily.
All relevant employees can stay connected with each other through it.
This is one of the best business apps out there.
The company currently has serviced more than 10,000 clients.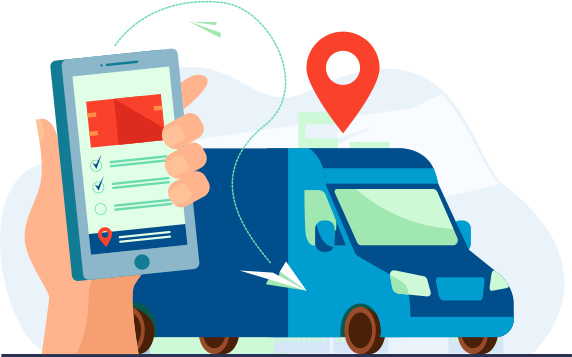 What Are the Different Types of Transportation and Logistics Apps?
One can find various apps for shipping, courier, delivery services on the digital market. This means that one cannot disregard the importance of logistics apps in our lives now. They are extremely popular among people nowadays.
It is important to note that there are different types of logistics apps. They are as follows:
Transportation Tracking Apps
These apps help the users to monitor their transportation activities and track them in real-time. When using these types of logistics app, one can easily monitor all cargo delivery-related information from a specific location. They are commonly used by courier companies as well as other shipping services that need to keep an eye on their products.
Warehouse Apps
These apps help businesses to manage their warehousing activities. They are used for real-time tracking of products stored inside warehouses by scanning barcodes or QR codes on storage containers. The warehouse app tracks each product movement within the warehouses and keeps an eye on them till they reach their destinations.
Fleet Management Apps
These apps help logistics companies to manage their fleet activities. They're used with the GPS features of the smartphone and location services enabled by an internet connection. These fleet management apps offer real-time tracking of the vehicles, saving the vehicle's route details and offering optimized route determination as well as alerting about low fuel levels and other problems faced by the drivers. Some of these apps are also used for managing vehicle maintenance processes.
Weather Apps
Weather plays a vital role in transportation. If there's heavy snowfall or any other natural calamity, it can affect how fast your item reaches its destination which is why logistics companies need to always be updated about the weather conditions around them. Many logistics apps are now coming up with weather data about the places where their vehicles are traveling so that they can take necessary precautions.
What Are Some of the Important Features of Transportation and Logistics Apps?
Some of the important features of logistics app are a follows:
Geo Tracking :
One of the most important features of any logistics application is its ability to track multiple trucks and other vehicles. This feature helps in monitoring the movement of goods as well as the location of the truck. It also helps in providing information about delays encountered on their way, all real-time and accurate.
Command Center :
Command center is an important feature of any logistics app. The command center helps in the monitoring of each vehicle, its location, delay reports, tracking of cargo as well as other important information.
Fleet Management :
Fleet management is a more advanced way to keep track of trucks and other vehicles. It enables a person to monitor the location of the vehicle in real-time. It also enables a person to view the history of each route taken by the truck, thus improving overall performance.
Scheduling :
Scheduling is an important feature that helps in maintaining the efficient running of trucks. With it, any person can view all planned trips for a particular day, then they can view the status of each trip, modify planned trips if necessary, and also plan what route should be taken for each truck.
Dispatch :
This feature helps in dispatching trucks to different locations with ease. With it, one or more drivers can be assigned to a particular job or even an entire fleet. It also enables them to accept the task of job/route when it has been assigned.
Maintenance :
This feature allows anyone to see which truck requires servicing, what types of servicing are needed, and even details on each part that needs to be serviced.
Invoice Management :
Every transaction made by a truck can be monitored through this feature. The history of incoming and outgoing invoices, payments made, etc. are all recorded in this.
Reporting :
This is an important part of the system as it helps without any difficulties generate reports regarding the financial status of a business easily. It provides information about various figures such as how much has been spent, on what. If anything due or payable is pending etc.
Access Control :
This feature helps control the usage of the system by restricting access to normal users and administration staff only can gain access to all features of this system.
What Are Some of the Top Companies for Transportation and Logistics App Development?
The top companies for transportation and logistics app development are as follows:
How Can MedRec Technologies Help You To Develop a Transportation and Logistics App?
MedRec Technologies is experienced with app programming such as Apple's Swift, Google's Go-lang, .NET, etc. We are also experienced with cross-platform development using Xamarin which allows app development on Android.API, iOS, and Windows mobile devices using C# language.
We use codes that are open-source to develop our apps. They can be found on GitHub Website and CodePlex.
We use authentication methods that are open sources such as using OAuth 2.0, JSON Web Tokens (JWT), and other security providers like Auth0. We also use Firebase to speed up the work of app development because it is dynamic and high-performing. What Google has to offer is not as efficient and has a lot of glitches.
We believe that hiring us as your mobile app development partner will result in a high-quality product with unique features that will help you improve your business or cause. It allows us to share what we've learned with other developers who are eager to learn about the latest technology trends.
Also Read :
Hire the Top Software Development Professionals