Our blogs
Call Us - US: +1 415 230 0398

UK: +44 7466035003

Email Us:
7 Reasons Why You Need A Healthcare App Development Company?
Healthcare app development has gained specific momentum because of the pandemic as the world strives to make healthcare accessible to the nook and corner of the world.
Healthcare app development refers to the development of software and mobile apps for healthcare organizations, professionals, and patients.
Healthcare app development is a goal-oriented process involving designers, developers, project managers, etc. who collaborate to achieve a common goal of building a better healthcare platform.
Today's smart devices have revolutionized the way we receive information about anything – from education to entertainment – everything can be accessed simply by using your smartphone/device.
In this modern age where people are more reliant on smartphones than ever before, it has become necessary that they should have access to their health-related data too.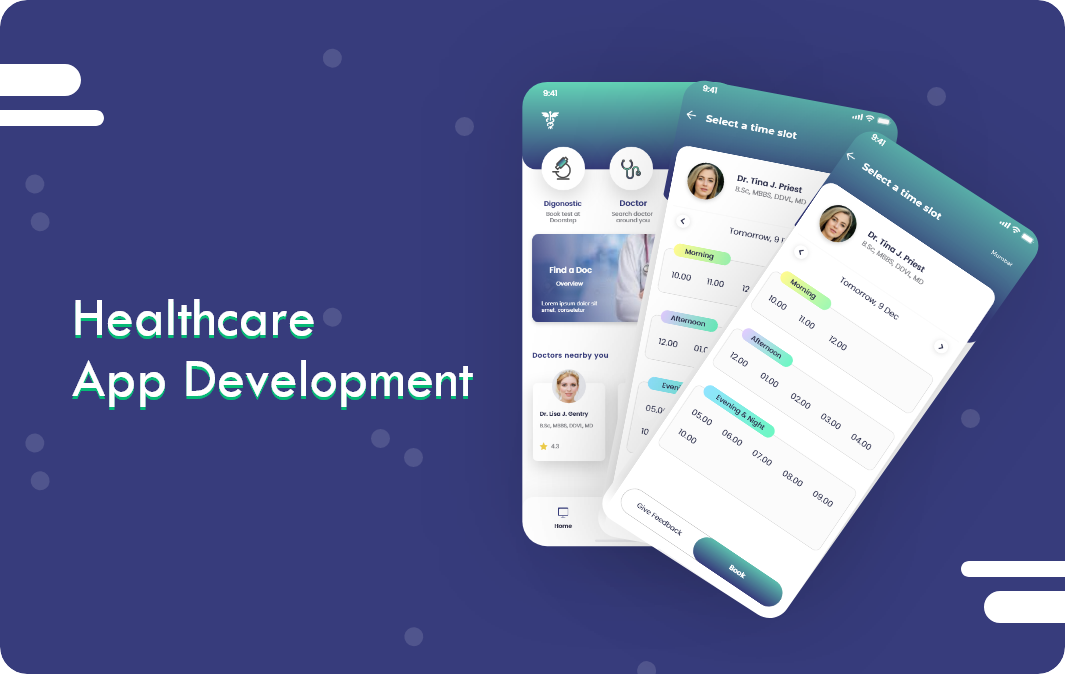 7 Reasons Why You Need a Healthcare App Development Company For Your Business
Here are 7 reasons why you need a healthcare app development company for your business:
Makes up for an Instantly Reachable Channel:


Mobile applications are an instantly reachable channel as they can be accessed from anywhere and on any device.

Healthcare apps make it possible for the user to connect with a healthcare company or physician at their fingertips 24x7.

This mobile app-based approach helps you stay connected with your employees and customers, even if they're traveling on business trips, vacations, and so on.

Can Easily Track Employee's Health:


One of the most vital advantages of Healthcare app development company or IT implementation is that it allows employers to track how healthy their employees are – both physically and mentally.

Employers can set up fitness goals for their employees by allowing them to download a company-specific mobile application. The app will have features that allow employees to input their daily exercise and food intake. This helps the employer to see a pattern, if any, in the employee's health and make necessary adjustments.

Additionally, by tracking mental health, employers can help identify employees who may be struggling with stress or depression and offer them the necessary support.

Helps Reduce Medical Costs:


Healthcare app development or healthcare IT systems can help reduce overall medical costs by streamlining processes and automating tasks such as billing, scheduling appointments, and filling prescriptions.

In fact, according to a study by the Ponemon Institute, healthcare organizations that have implemented mobile application development for Healthcare saw a decrease in their annual IT spending of up to 28%.

Improves Patient Care:


One of the biggest problems facing the healthcare industry is the lack of patients' engagement in their care. By leveraging Healthcare app development and IT systems, such as patient portals and electronic medical records (EMR), employers can provide a more personalized experience that engages patients and improves outcomes.

For example, 74% of patients use online health tools to manage chronic conditions which helps them feel empowered and provides them with a better understanding of their health.

Helps Prevent Legal Issues:


Leveraging new digital technologies can help prevent legal issues by providing access to information for medical professionals and helping companies comply with regulations such as HIPAA and HITECH.

Additionally, companies who adopt comprehensive Electronic Health Records (EHRs) solutions will be fully compliant with meaningful use, which comes with a hefty price tag. Furthermore, EHRs can also improve patient safety and satisfaction.

This is because EHRs provide a secure way to access medical information, which reduces the risk of errors and omissions that could lead to legal liabilities and loss of insurance reimbursements.

Improves Patient Outcomes:


Finally, providing patients with direct access to their health records through electronic portals, such as eHealth Exchange, empowers them to become more engaged in their own healthcare decisions.

However, this is not the only benefit - new health applications provide greater opportunities for physicians to be proactive about anticipating patient needs. For example, an application developed at the University of Rochester Cancer Center allows doctors and nurses involved in cancer care throughout New York state to access the latest patient clinical data in near-real-time. This helps clinicians to more quickly identify potential problems and take corrective action.

Saves Time and Money:


In addition, electronic health records can help reduce costs by automating many administrative tasks that are currently done manually. For example, at Partners Healthcare in Boston, a new system that electronically links lab results with physicians' notes has eliminated the need for nurses to spend hours each day keying information into different systems. This not only saves time and money but also frees up nurses to provide direct care to patients.

The bottom line is that electronic health records offer many benefits – improved quality of care, increased safety, enhanced efficiency, and better patient outcomes. And as more and more healthcare providers adopt these healthcare mobile app development systems, the benefits will only increase.

So if you're still on the fence about electronic health records, now is the time to make the switch. They may take a little getting used to, but the long-term benefits are well worth it. Sooner or later, all healthcare providers will be using them – so you might as well join the bandwagon now.
You May Like : Top 7 Mobile App Development Trends in 2021-2022
How Can MedRec Technologies Help You As Your Healthcare Mobile App Development Company?
MedRec Technologies is proficient in providing healthcare mobile app development services to clients worldwide. As one of the leading companies, we are quite familiar with the challenges you face before entering into a business agreement with us.
So here are the 5 reasons why you need to choose us as your healthcare mobile app development company:
Talented team that understands all your needs-
Our team comprises very talented and experienced healthcare app developers who are well-versed with the latest trends in this domain. They work closely with you to identify all your requirements and design an application that meets all your needs.
Cost-effective services-
We offer cost-effective services without compromising on the quality of our work. We understand that most healthcare organizations are on a tight budget, so we offer custom-tailored solutions that fit into your budget.
Timely delivery of projects-
We understand the importance of timely delivery of projects and always work within the agreed timelines. We never miss deadlines and ensure that you get your project on time.
Full-service support-
When you partner with us, we also take care of any post-implementation issues for you. We understand how important it is to have a solution that is easy to manage and support and we ensure that our clients get the required level of support and training.
Worldwide delivery-
We provide software outsourcing services to clients across the world. We have a proven track record of delivering projects on time, every time to clients in over 60 countries. No matter where you are based in the world, we can easily handle your project work through our offshore offices located in India - one of the largest sources for quality software professionals.
Related Articles :
Hire the Top Software Development Professionals