Our blogs
Call Us - US: +1 415 230 0398

UK: +44 7466035003

Email Us:
Restaurant App Development Company – New App For Your Business
Who doesn't like eating out? However, in situations like the pandemic, it becomes difficult to step out. Hence, ordering in comes out as a better option.
That's where the restaurant apps come into place. Restaurant app development refers to the process of developing an app for a particular restaurant. It's a simple yet important feature for food chains these days. The app allows customers to order their meal via the phone and have it delivered at home or the office.
Since the restaurant industry has high potential, it becomes essential to develop apps that can delight your customers in many ways. However, you should also bear in mind that each restaurant has its unique mantra and mission. Hence, the development should be aligned to their goal and objectives as well.
Another important feature for a mobile app is to provide relevant information related to customers' requests. For instance, it can provide necessary details like the location of the outlet and other relevant info that could come in handy during navigation or ordering.
In this blog, let's understand the importance of apps and how they can grow your business, learn about their benefits, unique features, and the top companies in this domain.
Checklist To Consider Before Developing a Restaurant App
If you're planning to develop an app for your food chain, our experts at MedRec Technologies may be able to help you out with this task.
Here's a checklist of things you need to consider before you start:
The first thing people look for in an app-spyware free! You need experts who will make sure that there are no backdoors installed into it.
Security of your app is of utmost importance. So make sure it does not get hacked and the codes are watertight.
You need experts to design and develop your apps keeping all your requirements in mind; from the UI to the UX, they should come up with a product which you will love using daily.
Make sure that the app is user-friendly.
All these points are essentials in creating an app that will not only be loved by customers but also is worth your money.
For more information on how MedRec Technologies' experts can help you with this project, give us a call today. Remember, our services are available at affordable prices too.
Suggested : Know why you should invest in Mobile Application Development ?
Why Is a Custom Restaurant App Important For Your Business?
Custom restaurant apps can boost your business growth due to the following reasons:
They allow you to connect with your customers in a more personal way.
The apps offer a better platform where users provide feedback and also rate the restaurant. This is a good way for restaurants to improve based on customer priorities.
You can ensure that your diners have access to all the right information about the menu, hours of operations, location, etc., from their mobile devices so when they visit your business they will not have to wait in queues or ask employees questions all the time which will eventually help save your company money due to lower staff turnover rates and increase customer satisfaction levels.
You can be sure that you will get increased sales and revenue if you create an app for your restaurant because it offers your customers the chance to pre-order their meals directly from your business.
You can also use all of this information for your marketing strategies. If you want to do a specific promotional event or provide discounts, you can make sure that it will be available whenever anyone with your app on their mobile devices visits your restaurant. This way it is easier for you to build stronger relationships with your current customers as well as attract new ones.
You can take advantage of customer metrics and analytics if you create an app for your restaurant which will help improve customer satisfaction levels based on feedback that they give through reviews about their experiences at your place of business.
Finally, creating an app for your restaurant would have multiple benefits including increased revenue, better customer retention, and significant growth in profits all the while enjoying a more pleasant experience at your restaurant.
​In the next section, you will learn how your business will benefit from a restaurant app.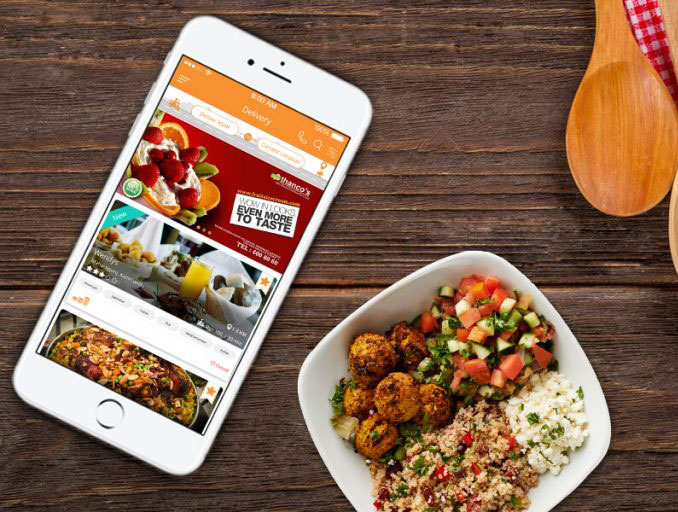 What Are the Benefits of Having a Restaurant App?
Restaurant apps bear a lot of benefits such as increased revenue, better customer retention, and significant growth in profits. All the while enjoying a more pleasant experience at your restaurant with increased loyalty levels all thanks to an easy-to-use app that provides additional information not only to customers but also to staff members as well.
Acts as an effective location tracker:
You are now able to track the exact location of your customers who are using the app. This is beneficial especially when you want your waiters to attend to specific tables depending on how long they have waited for their orders.
Increases sales:
With the use of push notifications, you increase sales by upselling more items either drinks or desserts. Also, since customers book reservations via this platform, you can now communicate to them the event they are looking for before getting there so they can dress appropriately.
Booking Reservation:
Customers are now able to make reservations right from the comfort of their homes using this app through its easy-to-use interface that doesn't require any registration. So, no more traffic in the restaurants when they can just book 24/7.
Share Your Experience:
Customers are now able to share their dining experience right from the app with both friends via Facebook or Twitter, and also with owners who will take action on your feedback if it is negative. This way you know whether your dining experience was good or bad before any other client gets there.
Saving Money:
If you are an owner, imagine not having to hire extra staff members since users can make online orders through this platform without going inside of a restaurant's site. Since orders are made online, customers never have to see the prices nor pay the bill at a table which results in saving money on salaries and promotions as well as the time spent in the actual restaurant.
Reducing Time Spent on Planning Meals:
If you are an owner, imagine having the flexibility of designing menus that will match with orders coming from different directions. You can also come up with new recipes anytime and then promote them by adding them directly to menus so customers know exactly what they get without fail. On the other hand, if you are a user, imagine planning meals perfectly for each day using this. You can even plan your diet perfectly, which has sports benefits as well.
Customization Options are Limitless:
You can select recipes by using search filters without having to place anything in a cart ahead of time. This allows personalizing meals according to user preferences, including nutritional facts and ingredients used/not used. Plus, there are no minimums for orders either so you don't have to buy food that will go to waste.
Also Read : Common Myths about Mobile App Development That You Must Know
What Are Some of the Top Restaurant App Development Companies?
There are many app development companies that can make a full-functioning custom restaurant app for your food chain. Here are a few companies listed below:
Essential Features You Need To Consider While Building a Custom Restaurant App
Some of the essential features that you need for your custom restaurant app are as follows:
GPS & Maps:
More people are moving towards smart devices and this includes restaurant owners as well. If you want a restaurant app then it should provide the users with the exact location of your restaurant that they need to reach. You will also have to integrate maps so that users can easily locate them from their area.
Social Media Support:
Nowadays, most people prefer using social media for everything including contacting a business or restaurant owner or even checking out what other people have to say about them. To connect with them on various social networking sites, you need a custom app for your restaurant rather than just having a website because the latter option is not going to be visible enough on small screens of mobile phones or tablets. Moreover, people will get confused if they try to share their links on Facebook or Twitter because the links won't be clickable.
User Engagement:
Social media campaigns are good for increasing user engagement but how effective it depends on the number of followers you have and their frequency of posting status updates about your restaurant. You can increase the frequency of social media posts by using third-party APIs that allow businesses to automatically post status updates at regular intervals of time without having to manually login into every profile individually.
Automatic Payments:
If you want to streamline payments at checkout, then you need an online ordering app that offers integrated payment gateways like PayPal or Stripe so that users don't leave your website to make a purchase. These apps not only allow you to accept online payments but also automate the process of discount codes generation and delivery at checkout.
Promotions:
You can use location-based marketing services or APIs to promote a limited-time deal via a check-in on social media, SMS message, email, or by displaying a voucher code during an online checkout process.
Public Relations:
To build brand awareness among users of social media platforms about their restaurant business whether they are from another city or country try putting up press releases about your restaurant via social media channels like Facebook and Google+.
Ad Tracking:
In case you want to understand which ad form is generating more revenue for your restaurants then track the sales that were a direct result of a specific form of marketing to measure its effectiveness.
Menu Planning:
Use online menu builders to create custom menus for your restaurant and mobile apps so that you can decide your prices based on market value and keep your customers happy by offering them great-tasting food at affordable prices.
Branding:
To build brand awareness among target consumers about their business whether local or national, try uploading pictures of your restaurant via social media channels like Facebook and Google+.
Customer service chatbot:
Create a customer service bot that helps resolve questions related to delivery details or any other issue related to a customer using a simple conversation window with the help of quick replies or an advanced chatbot with Artificial Intelligence.
Order Tracker:
This is a very useful bot that syncs your company website with your social media channels, email marketing campaigns, and real-time SMS notifications to let your customers know the exact delivery status of their orders. Check out this tool for creating order tracker chatbots.
User engagement Bot:
This helps you to grow audience reach on Twitter by automatically engaging existing users by mentioning them in tweets published on their feed, telling them about new updates via direct messages, inviting them to follow you, or retweeting their content.
Conclusion
This blog provides you with an overview of how you can create a restaurant app for your food chain.
They can be useful tools in boosting conversion and marketing automation, automating tedious job activities, and improving customer service through real-time and meaningful interactions.
Please share this article if you find it interesting.
Also Read :
Hire the Top Software Development Professionals