Our blogs
Call Us - US: +1 415 230 0398

UK: +44 7466035003

Email Us:
What Does It Cost To Build an E-Commerce Website Like Amazon?
According to Digital Marketer, the average revenue per user (ARPU) for Amazon is $350. This means someone who makes an Amazon account spends around $350 on his/her purchases each year.
This is because the e-commerce business plays a major role in making the lives of people better by providing them with an easier way to purchase things they want and need. With this, people will surely spend more than usual as they shop online.
This also makes e-commerce websites like Amazon popular and famous among users. However, that doesn't mean you can just build your e-commerce website and it will be as popular as amazon.
But the question that arises is, what makes Amazon so successful and how to create an e-commerce website like amazon? Let's explore all of that in this blog.
First of all, let's understand who are the leading competitors in the field of e-commerce.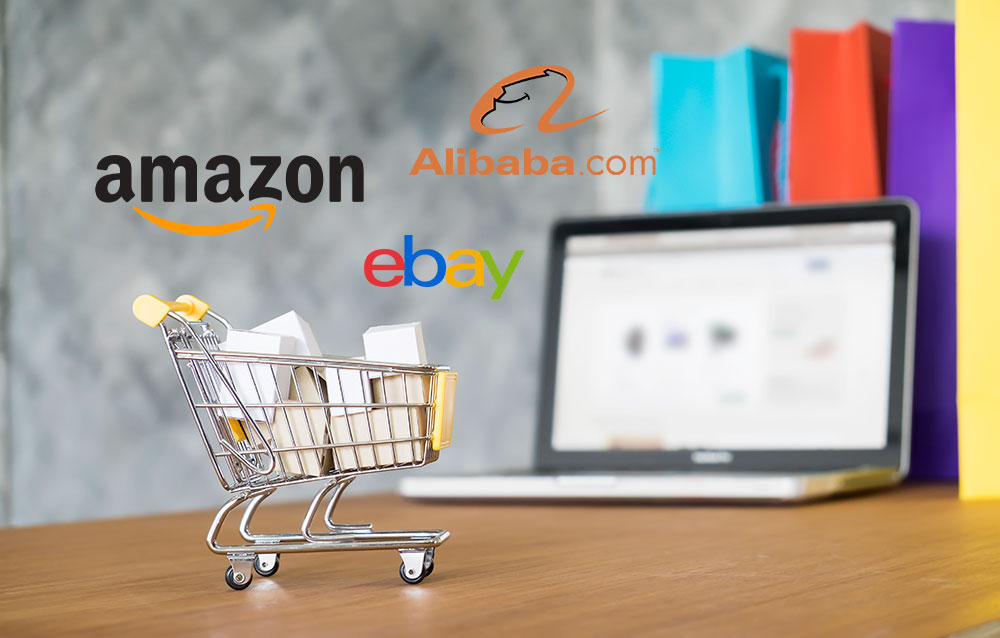 What Are the Top E-Commerce Companies?
Following are the top three e-commerce companies:
Amazon :
An e-commerce giant like Amazon initially started as an online bookshop. However, now it welcomes a wide range of products right from grocery to electronics. The brand has its line of devices and offers a range of services like cloud computing and video streaming.
Amazon is known for its quick delivery and great customer service. Amazon has close to 341 million products under its name, 3 times more than that of Walmart. The website is available in 10 languages and ships to 100 countries around the world. As per 2017 statistics, Amazon's net sales are about $178 billion.
eBay :
eBay is another popular American multinational company that specializes in online auctions and eCommerce. eBay was launched on September 3rd, 1995 as a public auction website. The brand is registered under PayPal, an American company that specializes in online money transfers and financial services.
In 2017, 44 million people visited Ebay's website to buy and sell various products. eBay sales account for $80 billion, which is approximately 66% of Amazon's net sales. Today, eBay offers various services on its platforms such as the sale of cars and other products, online courses, and crowdfunding.
Alibaba :
Alibaba is a Chinese company that dominates a fair share of the e-commerce market. It was founded in 1999 by Jack Ma as a business-to-business company. The e-commerce website was launched in 2003 and is currently the 11th most visited site on the entire internet. Alibaba's market cap is $480 billion, which makes it larger than Amazon.
There are 800 million other people who use other sites owned by Alibaba such as Tmall, Taobao, and AliExpress (most of which are either free or cost very little to use). Alibaba specializes in selling products made in China and other Asian countries. This means that you can buy products for a much cheaper price than if you were to buy them from Amazon or any other global brand.
E-commerce websites like Amazon, eBay, and Alibaba account for 1/3 of all consumer spending that goes through the internet. In 2015, over $1 trillion USD was spent on e-commerce sites around the world.
Given these statistics, it begs an important question, what are the features in an e-commerce website like Amazon that make it successful?
What Are the Features That Made Amazon Stand Out?
Here are some of the features of Amazon that have resulted in its success:
Personalization :
This refers to the customization of a website to suit the needs and preferences of each user. This may include content that is specific to the location, age, and gender of users on your site. Amazon allows users to connect with their social media accounts such as Facebook, Pinterest, and Gmail accounts before they start shopping on the site. This enables Amazon to provide a seamless experience and provide personalized recommendations while you are shopping.
Easy Payment :
Amazon offers varied payment methods such as credit/debit card payment through Visa or Mastercard, payment through your bank account, Mobile wallets and banking, online payment, and so on. This gives users the freedom to choose among several payment options while shopping on the site.
Easy Returns :
Amazon provides extremely easy returns to its customers. There are two types of returns available: Standard return and Super Saver return, based on the product ordered by the user. A standard return can be processed easily within 30 days of receiving your item at no cost. Super Saver return is similar to the standard return but requires the user to self-ship the product.
B2C (Business to Customer):
Amazon offers several options for B2C (business-to-customer) sellers. These include the Fulfillment by Amazon (FBA) program, which provides complete services for sellers, and Amazon Web Services (AWS), the most popular B2C program that provides hosting for websites and mobile apps.
How To Build an E-Commerce Website Like Amazon?
Following are the steps that you should follow to build a website like Amazon step-by-step:
The first step is to create a roadmap that contains all your goals about your e-commerce website and the goals that you wish to achieve in the short-term and long-term.
You will need to create wireframes along with the web design so that the design sticks to the plan. These wireframes will help you change the outlook of your website without changing the web pages making it user-friendly.
Next, create a list of all the essential features that you will need on the website. Some of the features may include registration and login features, browse and search features, product or products categories, product information and reviews, shopping cart, wish list feature, and order tracking.
Generate a rough estimate of the number of pages in your website along with their page size in KBs after allocating space for each and every file. After this is done you will need to generate a total time frame for designing the entire website.
Designers will need to thoroughly research your niche and competition before coming up with a design plan for your website. Finally, the designer will come up with a wireframe draft document that shows what your site will look like at each stage of development.
In order to aid you in getting an estimate from different web developing companies, it is important to understand what you can expect from an average web development company. Web developing companies provide services such as content management, hosting, domain registration, and web design. The range in prices for these services varies significantly between companies so you will need to search around to get the best deal for your money. Make sure to hire or outsource a good developer for your project.
Nextly, take extra precautions to secure the information of your users since they will be required to share their private data. Privacy and safety should always be a priority for a successful website.
After that, move on to make your MVP. This will be the most difficult and time-consuming process because it will require you to employ various tools for the frontend and backend of your website. Make sure to use the right technology to build your service.
After the MVP is ready, prioritize testing and gathering honest user feedback to improve the user experience.
Finally, your website is ready to be launched. At this stage, focus on employing good marketing techniques to attract more and more customers to your website.
What Does It Cost To Build an E-Commerce Website Like Amazon?
There are many factors to consider when trying to build a fully functional online shopping website like Amazon. These factors include:
The types of products you plan to sell on your website (e.g., clothing, sporting goods, etc.)
Whether or not your company will handle the order fulfillment
How much control do you want over pricing and shipping
Whether or not you plan to accept online payment processing
How much technical expertise do you have in-house
On average, the total cost of building an e-commerce website like amazon will cost anywhere between $100,000 to $250,000 for a new site. If you already have an existing website and need to make your shopping cart functional on the site, the cost will be lower at approximately $25,000.
These prices assume that you can work with an outside development company or an in-house team of developers who have experience in the e-commerce space.
You will need to spend approximately $150,000 for an excellent website that is built on a standard platform like Magento or Shopify. This price tag assumes that the developers have experience working with the specific technologies you are using and that they have experience building sites of similar complexity. The overall cost can be lower or higher based on what you want out of your website.
For more complex websites that require special functionality or the use of customized technology, you can spend up to $1 million or higher. These e-commerce sites are typically built for enterprises with very specific needs.
The price also significantly differs from location to location. If you are employing remote outsourced developers then you are likely to save money since you don't have to pay for office space and equipment.
Similarly, if you are based in a developed country like the US but your developers are from India, working remotely, it is possible that the minimum wages differ and hence you can save the cost accordingly.
Conclusion
Having learned all the valuable information regarding building an e-commerce website like amazon, you can immediately go ahead and start with your own e-commerce website.
As per our experience, it takes around 8 months to have a product ready for launch from scratch which includes all the features mentioned above. However, the time duration may be more depending on the type of website you are planning to build.
The current market is full of e-commerce website development companies and freelancers. Make sure to do thorough research before hiring anyone for the job.
You May Like :
Hire the Top Software Development Professionals