Our blogs
Call Us - US: +1 415 230 0398

UK: +44 7466035003

Email Us:
What Is a Super App? A Detailed Overview & Guided Explanation
We have all heard about apps and how they are made to boost a company's product or service.
However, did you know about the newly emerging super apps?
Well, you heard it right.
Super apps are increasingly in demand because they are quickly becoming popular for their capability to boost a company's product or service.
Due to this, the majority of people without an app idea are opting for the quick way out and getting it made with agencies who can make their app fast.
But what does it mean by super apps?
In this blog, we will explore all the potential questions you have about super apps.
What Is a Super App?
A super app is a mobile application that acts as a one-stop solution for multiple daily tasks. In general, consumers use 1 to 2 apps per day. There are two main types of super apps:
Apps that do something unique and help users save time
Apps that aggregate content from other sources – news, blogs – and provide a platform for continued engagement.
The purpose of the super app is to increase user engagement and retention over time.
Let us take the example of WhatsApp.
WhatsApp is a simple messaging app that has successfully replaced the age-old SMS service provided by telecom companies.
It has gained popularity in no time and today it is visible on almost every smartphone. It has revolutionized the way people communicate with each other irrespective of where they are located in the world. Hence, it can be called a super app catering to type one.
How To Differentiate Super Apps from Other Apps?
Super apps are differentiated by their ability to provide benefits that improve the user experience.
These benefits may include: saving users time, providing a better user experience (UX), enabling two-way communication between service providers and consumers, or offering advanced analytics. Moreover, these benefits will vary depending on the industry in which the super app is operating.
Super apps typically need to support high traffic levels, real-time response capabilities, and additional functionality over mobile web apps.
Lastly, the development of apps requires strong knowledge of both software engineering and user experience (UX) design.
What Is The History of Super Apps?
More than 500 billion apps have been downloaded so far while Apple's App Store alone has about 500K apps available. Many of these are shopping apps. The average user downloads about 18 apps per month, but only uses four regularly.
The problem with most of today's apps is that they are single-use. It might help you buy groceries or order coffee but it won't help you plan your daily commute or work out at the gym.
Zynga was one of the first companies to pioneer the idea of multi-purpose apps, but it is yet to be widely adopted. The problem with Zynga's apps is that they only work on mobile devices and there are a limited number of them available.
The first app to introduce the concept of a super app was Uber – a transportation company – in 2009.
However, they were not referred to as "super apps" until 2015. In general, companies aim to become super apps for one of two reasons: to enter an existing market or to create a new mobile market altogether through diversification.
The term "super app" was coined in a 2015-article by Paul Adams, an ex-vice president of products at Facebook. He described a super app as "a mobile application that can successfully meet the needs of a huge number of users."
This is because a service that aims to be a super app has to accommodate all different types of users across various segments and do it well. Fortunately, these services can use their large user base to provide valuable feedback and over time further customize the product.
While super apps are currently more commonly associated with the business world, some videos games also follow this model. Super Mario Run is a good example of this business model used within the video game industry.
What Are the Components of a Super App?
A super app consists of the following components:
Core -
The general mobile application developed with advanced technologies that meet the required needs of the customers.
Mobile website -
The web version of a mobile app; created mainly to provide quick and easy access for users on the road as well as those who cannot download apps at all (for security reasons, etc.).
Social media –
A super app can successfully integrate social media with the core and mobile website.
Push notifications –
These notify users of deals, events, and updates that they might find interesting, and help to create a sense of community around the app.
In-app messaging –
This allows businesses to communicate directly with app users. Through this marketing channel, you can provide information or prompt customers to take action inside the app.
Custom design and compatibility –
Apps need to be each platform's best version of itself: Apple, Android, and cross-platform apps (which work with both iPhone and Android devices). That means they should look great on all systems and respond to touch, swipe, tilt, and other gestures. They should also be compatible with a variety of versions and devices – from 4 inch iPhones to 12.9-inch iPads – as well as different operating systems.
One-click sharing –
Social media integration makes it easy for people to share content across their online networks, which is great for gaining awareness and increasing app downloads.
Step-by-step assistance –
If you want to help people learn how your app works, just including some on-screen information is not enough. Try adding video tutorials, instructional popups, and other interactive features that break the process down into understandable steps.
Customized welcome screens –
Welcome screens are usually simple tooltips or splash screens with an app logo. But if you want to encourage users to proceed to the next step, you can create video tutorials, instructional popups, and other interactive features that break the process down into easy-to-understand steps. If they already know how your app works or don't need that info right now, they can just skip it and go through the flow at their own pace.
Also, think about your user's first impression of your app. Welcome screens can be customized to look like their part of the app and match its style and mood. For example, when creating a mobile membership app, you might want to use a greeting that instantly makes users feel like they're the app's most important members. On the other hand, if they're entering a banking app, you might want to start with a message that establishes trust and security quickly.
What Are the Key Features of Super Apps?
Super apps are innovative, engaging, and solve customer pain points.
They have a strong backend team that is focused on building quick prototypes followed by strong app development with speed and quality.
Most importantly they provide an amazing user experience to their users. These apps are designed to solve problems for businesses as well as customers. Apps that scale across platforms and devices are called Super apps as they provide a wide range of solutions to the end-user.
While most successful apps are backed by some sort of business model, the concept behind super apps is that they solve customer pain points and at the same time support new innovative business models. There are five key features to look for in super apps: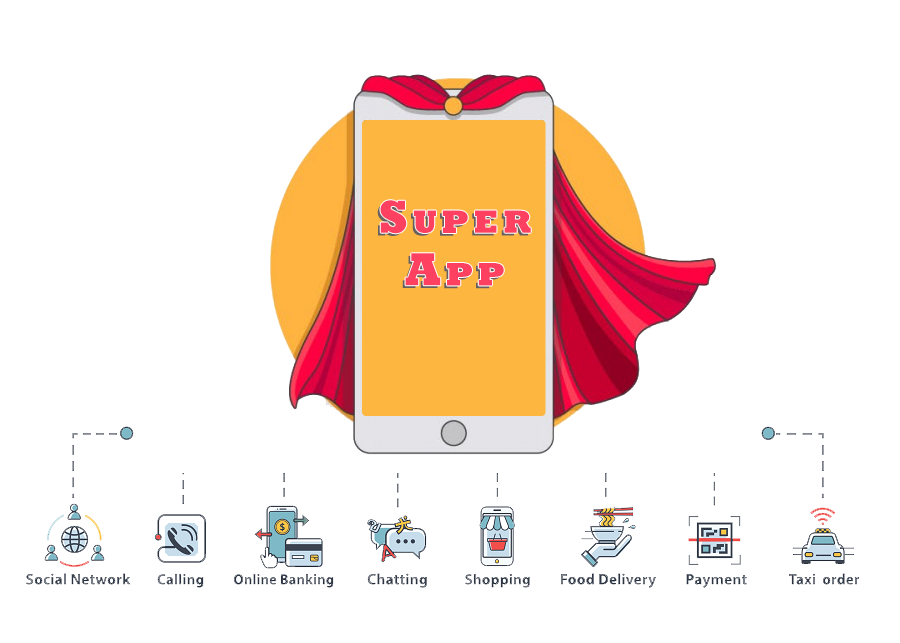 It solves people's problems daily
With each use, it provides more value for the user
It works on all mobile devices
They are simple to use and have an intuitive interface
The more users it has, the better it gets.
Why Is a Super App Important?
A super app aims to solve daily problems for the user, but by doing so it also creates new revenue streams that are not possible to do with just a mobile website.
A super app serves the purpose of the app and the mobile website, but it does more. Super apps solve customer pain points by doing all of the following:
Helps people find what they are looking for faster
Offers an easy way to share information with friends or family members.
Gives them where to go when traveling in unfamiliar places.
Gives them more information about the contents.
Allows them to be entertained for longer periods.
With all of these features, a super app can keep its users coming back.
A company can use its super app as an advertising or business generator. For example, if you want to advertise on Facebook you need to create a page for your company.
With a super app, you could create a simple app that is just for your page, which allows you to reach more people without cluttering their feed with posts from other companies.
What Are the Benefits of Super Apps?
Some of the benefits of super apps are as follows:
They can be used as a marketing tool for businesses or companies.
Allows users to remain engaged and entertained for longer periods. Most super apps also work as social media platforms, allowing users to communicate with other people.
They provide convenience and efficiency, allowing the user to function at their best capabilities and providing more time for them to focus on other personal tasks.
It allows users to work more efficiently, as they can easily access different apps at once without being forced to switch between them constantly.
A super app can provide a platform for users who are looking for a good opportunity and yet don't know where to look, allowing them to share and post their content.
What sets them apart from regular apps is that they provide entertainment value that can keep the user hooked for an extended period. This means that there is a high chance for them to become very popular.
Super apps are not just for entertainment purposes, they can also provide useful information that users might be looking for.
They are often developed by people who have a great understanding of what the market needs, making them more likely to create something that has a major impact on the app industry.
Conclusion
Having learned all you needed to know about super apps, you are ready to put your new knowledge to use.
If you believe you have an amazing business idea, do not ignore the importance of mobile apps and super apps in the process.
Feel free to contact us for your mobile app development project today.
Also Read :
Hire the Top Software Development Professionals