Our blogs
Call Us - US: +1 415 230 0398

UK: +44 7466035003

Email Us:
10 Tips & Tricks For Newspaper App Development Startups
Since the rise of the pandemic, the newspapers in our homes have become much more infrequent as compared to the past to prevent transmission. This served as a golden opportunity for newspaper app development.
In this blog, we will explore tips and tricks for newspaper app development and how startups can employ them.
What Is Newspaper App Development?
Newspaper app development refers to the creation of apps that are compatible with mobile devices. These apps can be accessed through the Apple Store, Android Play Store, or Windows store. This type of app development is based on HTML5 technology which makes it scalable even at high traffic volumes.
The purpose of these apps is to provide news items and articles daily to readers. This can be done by creating apps that provide top stories, the latest information, or the most popular articles.
As the smartphone market grows and more and more people turn to mobile devices, there is a need for developers who can create apps that work across multiple platforms.
The newspaper app development is one of those solutions since it allows users to access their favorite apps from anywhere on any device they wish without having to worry about compatibility issues.
How To Develop A Newspaper App?
Before you get started with the newspaper app development you will need to have a good understanding of what your thoughts are regarding this particular venture. You should keep in mind some points before starting on your path of creating an app for your business:
The Target Audience:
It is important to understand who your users are and engage them carefully but also consistently by providing them the information they desire the most often while preventing any mishappening.
The Functionality:
You would need to make sure that the app you develop is comfortable and easy to use while addressing all the user's demands. It should be able to work on different devices and perform smoothly without any glitches.
Sufficient Resources:
Developing a newspaper app requires time, money, and effort from your side which often gets neglected when starting with something new. Making it a success needs a lot of patience but in the end, you will reap the benefits of investing in this endeavor if done properly.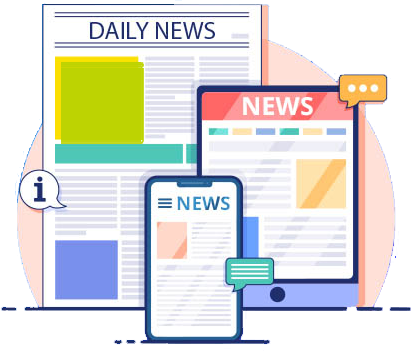 What Are the Key Features of Newspaper App Development?
Following are the features to be included in a news app development:
User Interface Design:
A well-designed and easy-to-use UI can help gain the trust of your users. It should create a positive impact and make them want to interact more with the app. For that, you will need an experienced and professional developer who has worked on something like this before.
Integration With Social Media Platforms:
This feature is important because today's generation is quite active on social media so it would be good for business if you use these platforms while promoting your newspaper app. Notifications about new posts, trending stories, etc., should come from other apps so that user doesn't have to leave one app just to check out other updates.
Content Management Tools:
If you have an official app for user-generated content, then Your team should be able to handle all user submissions correctly. They should be able to check whether the content is legal or not before publishing it.
Push Notifications:
This feature is better if it comes with some customization options so that users can decide which notifications they would like to receive on their devices. It's also good if you can customize these alerts according to the time zone and location of users.
Analytics And Statistic Tools:
You need this feature because it will help you measure the success of your newspaper app. What are the most popular stories? Which sources do users prefer? How many people read the stories? …etc., are all questions that can be answered by the app's analytic tools.
Articles Organizer:
It should support storing articles offline so that users can read them later even if they're not online at the moment. This feature is especially useful for those who are too busy to check the news all the time or who want to save articles for reading during their commute.
Share, Save, and Bookmark Functionality:
Users need this feature to share interesting articles with their friends on social media and recommend good sources to other people. They also need it so that they can easily return to a certain article when they don't have an Internet connection.
Support for Multiple Languages:
We are considering supporting multiple languages. Of course, it should have the necessary analytic tools that will help us determine which language option is more popular among users.
Possibility to Change Theme of Storytelling Mode or Article Viewer Pages:
Users might prefer a different theme other than a white background. This way, they can customize their reading experience by choosing a different color scheme and font size.
Implementation of an HTML5 Canvas Animation Effect to Draw Users' Attention to Important Points in Articles:
The article drawing program can process articles by replacing certain keywords with «» symbols (that act like highlighters). Then, when users hover over these keywords, the short story bot uses the canvas animation effect mentioned above.
Offline Mode:
It would be ideal if your app could work offline so that readers can use it whenever and wherever.
Our Personal Tips and Tricks For Newspaper App Development Startups
The tips mentioned below have proven helpful to us in the initial stages of our business. We hope that you can use these tips for your newspaper app development startup too. They are as follows:
Invest in a good team:
The success of an app depends largely on the team you have. Hire people who share your vision and passion for building a great product. Do not compromise on quality while looking for talent, especially if it comes to designers and developers. Startups can outsource work, but they must retain control over the process and their concepts and ideas remain protected throughout development. This will help ensure that the app they release will be 100% original.
Take time to understand your audience:
Before creating anything for your app launch, make sure you know what kind of audience are using it, what are their pain points, which are their expectations from the startup's content, etc. If done well initially this helps avoid confusion in the future when you're looking to grow your user base.
Make sure your app is easy to use:
After all, it's an app. You shouldn't have any problems using it or understanding its features. If you do, your users will too and this reflects badly on the startup.
Choose themes & colors wisely:
The colors chosen for your landing page can unconsciously influence a potential customer about how professional and reliable it looks. Plenty of research has been conducted proving that certain color combinations are more effective at luring visitors into clicking on links or buttons than others, so choose wisely beforehand.
Create memorable content & social links:
There are plenty of ways to get viral content online, however, one of the most important things to remember is that the content on your landing page needs to be catchy and easily shareable. Create a headline that screams out to potential users, then sprinkle it with some social sharing buttons so they can instantly tweet or Facebook about you.
Hit on pain points & value propositions:
Your potential customers are not going to invest their time into visiting your landing page if there's no clear advantage for them. If you want people clicking on your adverts, make sure they understand why they should care about what you have to offer.
Use call-to-actions & engagement methods:
Don't just assume traffic will go directly from adverts straight onto your landing page - this is where most startups fail. Call-to-action buttons are essential to converting traffic effectively. For example, if you're promoting a digital marketing course, having a CTA button like "Start learning now!" will encourage more people to click it than something more generic like, "Learn More."
Having an engaging headline & subheadline is crucial:
Headlines are what make or break adverts. If you want your ads to perform better (and of course, you do), make sure the headlines are specific and relevant to what's on your landing page.
Test different ad creatives:
Experiment with new pictures and headings that fit your audience demographics. You can run split A/B tests overtime on both AdWords and Facebook Ads Manager until you find the right combination for engagement rates.
Don't just go for clicks:
Sure, they're the easiest thing to track and optimize for. But conversions — not views — are what matter most to your bottom line. • Test " top of the sales funnel" ad copies as well as those further down the sales funnel (e.g., product specs & testimonials). See how people interact with each copy so you can use that insight to refine your strategy and find more success in converting customers.
Conclusion
To sum up, all the above-mentioned features and tips can help you develop a wholesome newspaper app to flourish your business. Apply them and see the results for yourself.
If you wish to outsource a newspaper app development team, contact us today!
Also Read :
Hire the Top Software Development Professionals